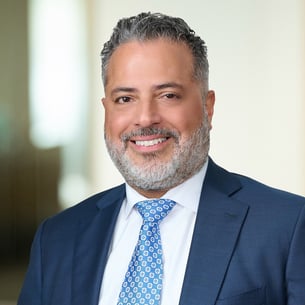 ---
Robert T. Maldonado
(he/him/his)

Counsel | Trademark & Copyright

Pardon the interruption, but we are lawyers after all, so we need to make sure you understand that calling, or leaving a message does not establish an attorney-client relationship. Also, you need to know the information in your call will not be considered privileged or confidential unless, of course, we already represent you or have agreed to receive limited confidential material from you as a prospective client.

If you are a client, do not call with time-sensitive patent filing instructions and do not assume we have received or are acting upon your filing instructions unless you receive written confirmation from us.

If you would like to discuss becoming a client, please contact one of our attorneys to arrange for a meeting or telephone conference.

There, that wasn't so bad, was it? Thank you for your interest in Wolf Greenfield.

Accept & Call

212.849.3339

Pardon the interruption, but we are lawyers after all, so we need to make sure you understand that sending an email does not establish an attorney-client relationship. Also, you need to know the information in your email will not be considered privileged or confidential unless, of course, we already represent you or have agreed to receive limited confidential material from you as a prospective client.

If you are a client, do not send time-sensitive patent filing instructions just to this email recipient. Also send to filinginstructions@wolfgreenfield.com and do not assume we have received or are acting upon your filing instructions unless you receive written confirmation from us.

If you would like to discuss becoming a client, please contact one of our attorneys to arrange for a meeting or telephone conference.

There, that wasn't so bad, was it? Thank you for your interest in Wolf Greenfield.

Accept & Email

Robert.Maldonado@WolfGreenfield.com

LinkedIn Profile
---
Overview
Rob Maldonado focuses his practice on intellectual property litigation, including patent, trademark, copyright, false advertising, and unfair competition matters in federal court. He has extensive litigation experience at both the trial court and appellate court levels, as well as before the Patent and Trial Appeal Board (PTAB) and the Trademark Trial and Appeal Board (TTAB). Rob manages extensive patent and trademark portfolios for his clients. He assists his clients in obtaining trademark, copyright, and patent protection, including developing IP protection and enforcement strategies. He is involved in the process from clearance, through registration of rights, through enforcement and licensing, and through renewal and maintenance.
Rob's clients, which span from start-ups to global corporations, rely on him for his strategic counseling. He regularly drafts opinion letters regarding patent validity and infringement, as well as trademark clearance, validity, and infringement. For patent work, his experience is primarily in the mechanical, material and process arts, as well as obtaining design protection. Rob also has assisted non-profits with protecting their intellectual property.
Prior to joining Wolf Greenfield, Rob was a partner at an intellectual property law firm in New York City for 27 years, where he practiced all aspects of intellectual property law.
---
Activities
Member, Hispanic National Bar Association (1999-present)

National President, Hispanic National Bar Association (2015-2016)
National President-Elect, Hispanic National Bar Association (2014-2015)
Regional President, Hispanic National Bar Association (2012-2014)
Chair of LGBT Section, Hispanic National Bar Association (2010-2013)

Member, The Hispanic Lawyers Society of New York (Top 100 Hispanic Lawyers in New York Metro Area)
Member, American Bar Association

Council for Diversity in the Educational Pipeline, Commissioner, American Bar Association (2020-present)
Center for Human Rights, Commissioner, American Bar Association (2018-2020)
Commission on Hispanic Legal Rights and Responsibilities, Commissioner, American Bar Association (2014-2018)

Member, Puerto Rican Bar Association ("PRBA")
Member, New York Intellectual Property Lawyers Association
Member, National LGBT Bar Association
Board Member, LGBT Law Association Foundation of Greater New York, Inc. (2013-2022)
Fellow, American Bar Foundation (2013-present)
MIT Alumni Association, MIT Club of New York
CUP Catalyst, Council of Urban Professionals (2017)
Trial Lawyer Honorary Society, Fellow, The Litigation Counsel of America (2016)
Member, Programming & Planning Committee, Judicial Conference of the Second Circuit (2014)
Member, Association of the Bar of the City of New York

Copyright & Literary Property Committee, Association of the Bar of the City of New York (1999-2002)
Committee on Land Use Planning and Zoning, Association of the Bar of the City of New York (1995-1997)
---
Recognition
Repeatedly named to the New York Super Lawyers list for intellectual property litigation
Named to

World Trademark Review 1000

– The World's Leading Trademark

Professionals (2023)

Ranked among the top 4% of most active trademark attorneys by Patexia, Inc. (2023)

Named a Top Latino Lawyer by Latino Leaders Magazine (2019)
Named among the Top 25 Most Influential Lawyers in the US by Latino Lawyers Magazine (2018, 2016)
Recipient of El Award by El Diario La Prensa (2013)
Named Regional President of the Year by the Hispanic National Bar Association (2013)
---
Interests
Traveling
Cooking
Dancing
Fitness