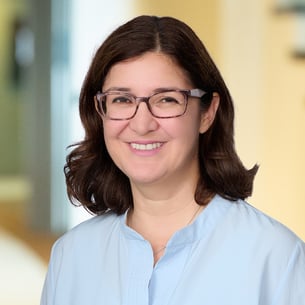 ---
Cecilia Martin, PhD
(she/her/hers)

Technology Specialist | Biotechnology

Pardon the interruption, but we are lawyers after all, so we need to make sure you understand that calling, or leaving a message does not establish an attorney-client relationship. Also, you need to know the information in your call will not be considered privileged or confidential unless, of course, we already represent you or have agreed to receive limited confidential material from you as a prospective client.

If you are a client, do not call with time-sensitive patent filing instructions and do not assume we have received or are acting upon your filing instructions unless you receive written confirmation from us.

If you would like to discuss becoming a client, please contact one of our attorneys to arrange for a meeting or telephone conference.

There, that wasn't so bad, was it? Thank you for your interest in Wolf Greenfield.

Accept & Call

617.573.7828

Pardon the interruption, but we are lawyers after all, so we need to make sure you understand that sending an email does not establish an attorney-client relationship. Also, you need to know the information in your email will not be considered privileged or confidential unless, of course, we already represent you or have agreed to receive limited confidential material from you as a prospective client.

If you are a client, do not send time-sensitive patent filing instructions just to this email recipient. Also send to filinginstructions@wolfgreenfield.com and do not assume we have received or are acting upon your filing instructions unless you receive written confirmation from us.

If you would like to discuss becoming a client, please contact one of our attorneys to arrange for a meeting or telephone conference.

There, that wasn't so bad, was it? Thank you for your interest in Wolf Greenfield.

Accept & Email

Cecilia.Martin@wolfgreenfield.com

LinkedIn Profile
---
Overview
Cecilia Martin assists the firm in patent prosecution in areas related to life sciences. A PhD with postdoctoral training in neuroscience and endocrinology, Cecilia utilizes her extensive technological knowledge when working with biotechnology clients ranging from start-ups to multinational companies. Cecilia's experience includes assisting with US and foreign patent preparation and prosecution, freedom-to-operate analysis, and patentability studies.
Prior to joining Wolf Greenfield, Cecilia was a Project Manager in the Biotechnology and Pharmaceutics Group at a research and intellectual property consulting firm. In addition, Cecilia spent a significant amount of time in the healthcare industry, assisting with research, intellectual property, and technology development at Mass General Brigham, Harvard Medical School, and Boston Children's Hospital.
Cecilia has been published in leading journals such as Nature Reviews Drug Development and the New England Journal of Medicine.
---
Recognition
Latin American Pew Fellowship
---
Martin C, Lowery D. mRNA vaccines: intellectual property landscape. Nat Rev Drug Discov. 2020 Sep;19(9):578. doi: 10.1038/d41573-020-00119-8.
Martin C, Lowery D. Selective GABAA receptor modulators: intellectual property landscape. Nat Rev Drug Discov. 2018 Nov;17(11):778. doi: 10.1038/nrd.2018.179.
Carmody C, Ogawa-Wong AN, Martin C, et al. A Global Loss of Dio2 Leads to Unexpected Changes in Function and Fiber Types of Slow Skeletal Muscle in Male Mice. Endocrinol. 2019, 160(5):1205-1222.
Luongo C, Martin C, Vella K, et al. The selective loss of the Type 2 iodothyronine deiodinase in mouse thyrotrophs increases basal TSH but blunts the thyrotropin response to hypothyroidism. Endocrinol. 2015, 156(2):745-54.
Martin C, Navarro VM, Simavli S, et al. Leptin-responsive GABAergic neurons regulate fertility through pathways that result in reduced kisspeptinergic tone. J Neurosci. 2014, 34(17):6047-6056.
Gill JC, Navarro VM, Kwong C, Noel SD, Martin C, et al. Increased Neurokinin B (Tac2) expression in the mouse arcuate nucleus is an early marker of pubertal onset with differential sensitivity to sex steroid-negative feedback than Kiss1. Endocrinol. 2012, 153(10):4883-4893.
Raivio R, Avbelj M, McCabe MJ, Romero CJ, Dwyer AA, Tommiska J, Sykiotis GP, Gregory LC, Diaczok D, Tziaferi V, Elting M, Padidela R, Plummer L, Martin C, et al. Genetic overlap in Kallmann syndrome, combined pituitary hormone deficiency, and septo-optic dysplasia. Int J Clin Endocrinol Metab. 2012, 97(4):E694-699
Blasubramanian R, Plummer L, Sidis Y, Pitteloud N, Martin C, et al. The puzzles of the prokineticin 2 pathway in human reproduction. Mol Cell Endocrinol. 2011, 346:44-50
Caronia LM*, Martin C*, Welt CK, et al. A genetic basis for functional hypothalamic amenorrhea. N Engl J Med. 2011, 364(3):215-225. *These authors contributed equally to this work
Martin C, Balasubramanian R, Dwyer AA, et al. The role of prokineticin 2 pathway in human reproduction: Evidence from the study of human and murine gene mutations. Endocr Rev. 2011; 32(2):225-246.
Sykiotis GP, Pitteloud N, Seminara SB, Kaiser UB, Crowley WF Jr., for the Gene Discovery Team* of the Harvard Center for Reproductive Endocrine Sciences. Deciphering genetic disease in the genomic era: The model of GnRH deficiency. Sci Transl Med 2010; 2(32):32rv2. * Also includes in alphabetic order: Au M, Avbelj M, Balasubramanian R, Chan YM, Dwyer A, Gianetti E, de Guillebon A, Gusella JF, Hughes V, Martin C, and Plummer L.
Avbelj MS, Romero CJ, Tziaferi V, McCabe M, Zhang C, Sidis Y, Plummer L, Elting M, Martin C, et al. New loci for congenital hypothituarism: overlap with Kalmann syndrome. Horm Res Paedriat. 2009; 72:30-31.
Martin C, Jacobi JS, Nava G, Jeziorski MC, Clapp C, Martínez de la Escalera G. GABA inhibition of cyclic AMP production in immortalized GnRH neurons is mediated by calcineurin-dephosphorylation of adenylyl cyclase 9. Neuroendocrinol 2007; 85: 257-266.
Jacobi JS, Martin C, Nava G, Jeziorski MC, Clapp C, Martínez de la Escalera G. 17-b estradiol directly regulates the expression of adrenergic and kisspeptin receptors in GT1-7 GnRH neurons. Neuroendocrinology 2007; 86:260-269.
Clapp C, González C, Macotela Y, Aranda J, Rivera JC, Garcia C, Guzman J, Zamorano M, Vega C, Martin C, et al. Vasoinhibins: A family of N-terminal prolactin fragments that inhibits angiogenesis and vascular function. Front Horm Res. 2006; 35:64-73.