Wolf Greenfield Promotes Most Attorneys to Shareholder in Firm's History in 2021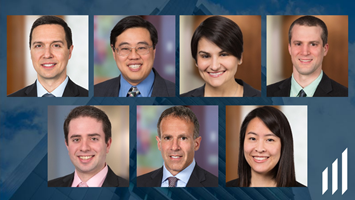 Wolf Greenfield is pleased to announce the promotion of seven attorneys to the position of shareholder, effective January 1, 2021, marking the most shareholder elevations made at one time in the firm's history. The promoted attorneys are David F. Cauble PhD, Tani Chen ScD, Heather J. DiPietrantonio PhD, John S. Harmon PhD, Daniel G. Rudoy PhD, Robert N. Sahr and Jennifer J. Wang. Their legal and technical know-how covers a range of industries, including biotechnology, chemical and materials technologies, electrical and computer technologies, mechanical technologies, and pharmaceutical.
"We are thrilled to have the ability to promote a record number of well-deserving individuals to shareholder in this most unusual year," said Tim Oyer, Wolf Greenfield's President and Managing Partner. "Each of our new shareholders has demonstrated repeatedly that they are authorities in their respective technology areas, outstanding lawyers, passionate about client service, and share our firm's culture and values."
David Cauble counsels clients on filing strategy, portfolio development and IP risk management in relation to chemical and pharmaceutical technologies. His experience includes patent preparation and prosecution, appeals and inter partes review, as well as patentability, freedom-to-operate and opinion work. David's technical background is in complex organic synthesis and drug development.
Tani Chen counsels clients in patent prosecution in a wide variety of areas, including biomolecular engineering, nanotechnology, tissue engineering, drug delivery, fuel cells, chemical processes and analytical devices. Tani has a particular focus on small businesses and university research, and has helped companies develop strong IP protection based on their business goals and potential threats from competitors. Tani particularly enjoys working with startup companies to help strengthen their competitive positions in the marketplace.
Heather DiPietrantonio focuses her practice on patent prosecution, strategic patent portfolio development and life cycle management in the area of biotechnology. She represents startups, small- to mid-sized companies and research institutions at all stages of the business lifecycle. Heather has extensive experience counseling clients and prosecuting patents for a wide range of technologies including nucleic acid vaccines, gene editing, genetic engineering, antibodies, cell therapeutics and nucleic acid nanotechnology.
John Harmon's practice includes worldwide intellectual property counseling including patent prosecution, product clearance analysis, diligence, agreements and general IP counseling. John represents clients in industry and academia ranging from venture-backed startups to large corporations and academic institutions in a wide range of technologies related to the mechanical, materials and chemistry fields. John's strong technical skills combined with his deep knowledge of patent law and industry allows him to align client business goals with specific IP strategies crafted to meet those goals.
Dan Rudoy focuses his practice on patent prosecution in the areas of artificial intelligence, bio-informatics, electronics, medical devices, medical imaging, signal processing and software. He is particularly skilled in technologies related to machine learning, including deep learning and data science. Dan regularly works with startups and midsize companies, advising them on all aspects of IP strategy and portfolio development. He also works with clients on many IP issues beyond patent prosecution including due diligence, license agreements, freedom-to-operate and litigation.
Rob Sahr develops strategies for life science companies to maximize exclusivity for therapeutic and diagnostic products. Rob assists clients with building global patent portfolios aligned with product life cycle, and advises clients on regulatory exclusivities, patent term extensions, Orange Book listings and biosimilars. In addition to pharma and biotech companies, he works with universities, research institutions and venture capital investors, providing patentability and freedom-to-operate assessments, non-infringement and invalidity opinions, performing IP diligence, and preparing agreements.
Jennifer Wang works with clients to develop strategic approaches to intellectual property that are best suited to their business goals. She counsels clients in a wide variety of IP matters, including patent prosecution, US and global patent portfolio strategy, IP due diligence, freedom-to-operate, landscape and patentability studies, and post-grant proceedings. Drawing on her technical background in mechanical engineering, she advises clients across a broad range of technical fields, including medical devices, consumer products, manufacturing and electromechanical devices.