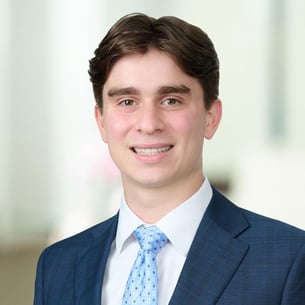 ---
Evan Bender
(he/him/his)

Technology Specialist | Electrical & Computer Technologies

Pardon the interruption, but we are lawyers after all, so we need to make sure you understand that calling, or leaving a message does not establish an attorney-client relationship. Also, you need to know the information in your call will not be considered privileged or confidential unless, of course, we already represent you or have agreed to receive limited confidential material from you as a prospective client.

If you are a client, do not call with time-sensitive patent filing instructions and do not assume we have received or are acting upon your filing instructions unless you receive written confirmation from us.

If you would like to discuss becoming a client, please contact one of our attorneys to arrange for a meeting or telephone conference.

There, that wasn't so bad, was it? Thank you for your interest in Wolf Greenfield.

Accept & Call

212.849.3351

Pardon the interruption, but we are lawyers after all, so we need to make sure you understand that sending an email does not establish an attorney-client relationship. Also, you need to know the information in your email will not be considered privileged or confidential unless, of course, we already represent you or have agreed to receive limited confidential material from you as a prospective client.

If you are a client, do not send time-sensitive patent filing instructions just to this email recipient. Also send to filinginstructions@wolfgreenfield.com and do not assume we have received or are acting upon your filing instructions unless you receive written confirmation from us.

If you would like to discuss becoming a client, please contact one of our attorneys to arrange for a meeting or telephone conference.

There, that wasn't so bad, was it? Thank you for your interest in Wolf Greenfield.

Accept & Email

Evan.Bender@WolfGreenfield.com

LinkedIn Profile
---
Overview
Evan Bender assists the Electrical & Computer Technologies Practice in patent prosecution. He has extensive knowledge in the areas of smart product and device design, electrical engineering, computer engineering, and imaging and medical devices.
Evan has a particular interest in the start-up community. His background includes working alongside founders and inventors to develop strategies for innovation and growth. During his time serving as a fellow at two start-up accelerators, Evan performed intellectual property research and due diligence in the areas of med tech, AI, engineering, pharmaceuticals, surgical devices, and electronic hardware.
Prior to joining Wolf Greenfield, Evan studied at Johns Hopkins University, where he simultaneously obtained a BS in Biomedical Engineering and MS in Engineering Management. Evan was also a JHU Biomedical Engineering Design Team Leader developing a device that leverages biosensors and algorithms to optimize oxygen delivery.
---
Recognition
Dyer Design Award, Johns Hopkins University's Biomedical Engineering Department
Top-100 Founder, The Collegiate Entrepreneur's Organization, 2021
---
Interests
Triathlon (Finished first Ironman 70.3 in 2019)
Mountain Biking
Skiing
Golf
Hiking
Cooking