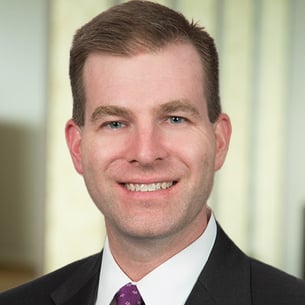 ---
Brandon S. Blackwell, PhD
(he/him/his)

Shareholder, Executive Committee Member | Chemical & Materials Technologies

Pardon the interruption, but we are lawyers after all, so we need to make sure you understand that calling, or leaving a message does not establish an attorney-client relationship. Also, you need to know the information in your call will not be considered privileged or confidential unless, of course, we already represent you or have agreed to receive limited confidential material from you as a prospective client.

If you are a client, do not call with time-sensitive patent filing instructions and do not assume we have received or are acting upon your filing instructions unless you receive written confirmation from us.

If you would like to discuss becoming a client, please contact one of our attorneys to arrange for a meeting or telephone conference.

There, that wasn't so bad, was it? Thank you for your interest in Wolf Greenfield.

Accept & Call

617.646.8360

Pardon the interruption, but we are lawyers after all, so we need to make sure you understand that sending an email does not establish an attorney-client relationship. Also, you need to know the information in your email will not be considered privileged or confidential unless, of course, we already represent you or have agreed to receive limited confidential material from you as a prospective client.

If you are a client, do not send time-sensitive patent filing instructions just to this email recipient. Also send to filinginstructions@wolfgreenfield.com and do not assume we have received or are acting upon your filing instructions unless you receive written confirmation from us.

If you would like to discuss becoming a client, please contact one of our attorneys to arrange for a meeting or telephone conference.

There, that wasn't so bad, was it? Thank you for your interest in Wolf Greenfield.

Accept & Email

Brandon.Blackwell@WolfGreenfield.com

LinkedIn Profile
---
Overview
Brandon Blackwell focuses on domestic and international patent issues for clients in academia and industry, including world-renowned universities, start-ups and early-stage companies, and multinational companies. Brandon makes it a priority to learn about his clients' business goals, which enables him to help clients build and maintain patent portfolios and implement patent strategies that support those goals.
Brandon's practice spans patent prosecution, post-grant proceedings, freedom-to-operate and validity opinions, IP transactions and agreements, and portfolio management strategy. Clients turn to him for guidance with intellectual property matters ranging from strategically building IP portfolios to developing strategies for invalidating and avoiding competitor intellectual property to negotiating and preparing agreements that ensure valuable intellectual property is properly secured.
Brandon's experience encompasses a range of technologies, such as chemical and biochemical processes and related equipment; electrochemical cells, batteries, and other energy storage devices; aerogels; microfluidics; sustainable environmental technologies including carbon sequestration, pollution mitigation, and water treatment; optical devices; semiconductor processing and electronics; metallurgical products and processes, including rare earth metal and precious metal recovery; and composite materials.
Brandon's doctoral work focused on designing, fabricating, and testing a microfluidic fuel processor for portable power generation using MEMS fabrication techniques. He attended the David H. Koch School of Chemical Engineering Practice, where he worked for General Mills and Johns Manville. Prior to graduate school, Brandon also designed a unique emissions capture system for a Fortune 50 pharmaceutical company.
---
Experience
Build IP portfolios and counsel clients through all rounds of funding from Series A-Series E
Assist in the development and management of patent portfolios for early-stage companies and leading academic institutions
Handle licensing (both in-licensing and out-licensing) for clients ranging from start-ups to large corporations
Develop foundational IP for start-ups and supplemental IP for large corporations
Negotiate IP provisions for a variety of agreements to ensure valuable intellectual property is properly secured
Perform extensive freedom-to-operate analyses as well as studies on patentability, infringement, and validity for start-ups, mid-size companies, and multinational corporations
Develop strategies for identifying, invalidating, and avoiding competitor patents and pending patent applications, and for evaluating risk of infringement as barrier to market entry
---
Activities
Boston Intellectual Property Law Association
Licensing Executives Society
---
Recognition
Repeatedly named to The Best Lawyers in America©
Repeatedly named to the list of Massachusetts Rising Stars by Super Lawyers
Daniel J. Fern Award for graduating first in class from Suffolk Law School
Lindsay R. Breed Bankruptcy Law Book Award
Jurisprudence awards in Constitutional Law, Property, Corporations, Basic Federal Income Tax, and Environmental Law
Best Brief Award in Legal Practice Skills
Edward Vivian Award for exemplary performance at Massachusetts Institute of Technology's Practice School
Eli Lilly Endowment Scholar at the University of Notre Dame