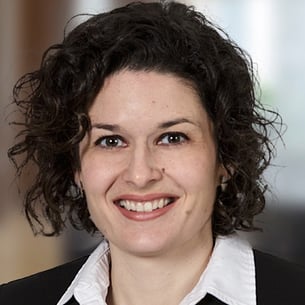 ---
Elizabeth M. Boehm, PhD
(she/her/hers)

Patent Agent | Biotechnology

Pardon the interruption, but we are lawyers after all, so we need to make sure you understand that calling, or leaving a message does not establish an attorney-client relationship. Also, you need to know the information in your call will not be considered privileged or confidential unless, of course, we already represent you or have agreed to receive limited confidential material from you as a prospective client.

If you are a client, do not call with time-sensitive patent filing instructions and do not assume we have received or are acting upon your filing instructions unless you receive written confirmation from us.

If you would like to discuss becoming a client, please contact one of our attorneys to arrange for a meeting or telephone conference.

There, that wasn't so bad, was it? Thank you for your interest in Wolf Greenfield.

Accept & Call

617.646.8487

Pardon the interruption, but we are lawyers after all, so we need to make sure you understand that sending an email does not establish an attorney-client relationship. Also, you need to know the information in your email will not be considered privileged or confidential unless, of course, we already represent you or have agreed to receive limited confidential material from you as a prospective client.

If you are a client, do not send time-sensitive patent filing instructions just to this email recipient. Also send to filinginstructions@wolfgreenfield.com and do not assume we have received or are acting upon your filing instructions unless you receive written confirmation from us.

If you would like to discuss becoming a client, please contact one of our attorneys to arrange for a meeting or telephone conference.

There, that wasn't so bad, was it? Thank you for your interest in Wolf Greenfield.

Accept & Email

Elizabeth.Boehm@WolfGreendfield.com

LinkedIn Profile
---
Overview
Elizabeth Boehm assists the firm in biotechnology patent prosecution. She support clients ranging from start-ups to multinational companies to universities in technology areas such as biochemistry, molecular biology, biophysics, and antibodies.
With over five years of experience as a patent agent, Elizabeth's work includes assisting with patent prosecution, application drafting, freedom-to-operate searching and analysis, patent portfolio diligence, and patent portfolio development.
Prior to joining Wolf Greenfield, Elizabeth was a post-doctoral research fellow in Johannes Walter's lab at Harvard Medical School. There, she utilized Xenopus laevis nuclear extracts and biochemical techniques such as DNA replication and repair assays, immunodepletion, and protein purification to study the mechanism of DNA interstrand cross-link repair.
Elizabeth was previously a graduate research assistant in Todd Washington's lab at the University of Iowa. As a graduate student, Elizabeth utilized in vitro and biophysical techniques such as single molecule fluorescence and X-ray crystallography to study the protein complex that forms at replication forks stalled by damaged DNA. Elizabeth's graduate work resulted in several publications of research articles, review papers, essays and methods papers, as well as a talk at a national conference.
---
Activities
Subramanian Doctoral Thesis Award in Biochemistry
Marion David Francis Innovator Award
---
Scientific Publications
Boehm EM., et al. (2016) "Quantifying the Assembly of Multicomponent Molecular Machines by Single-Molecule Total Internal Reflection Fluorescence Microscopy." Methods in Enzymology. PMID: 27793278.
Boehm EM., et al. (2016) "R.I.P. to the PIP: PCNA-binding motif no longer considered specific: PIP motifs and other related sequences are not distinct entities and can bind multiple proteins involved in genome maintenance." Bioessays. PMID: 27539869.
Boehm EM., et al. (2016) "PCNA tool belts and polymerase bridges form during translesion synthesis." Nucleic Acids Research. PMID: 27325737.
Kondratick CM, Boehm EM., et al. (2016) "Identification of New Mutations at the PCNA Subunit Interface that Block Translesion Synthesis." PLoS One. PMID: 27258147.
Boehm EM., et al. (2016) "The Many Roles of PCNA in Eukaryotic DNA Replication." Enzymes. PMID: 27241932.
Boehm EM., et al. (2016) "The Proliferating Cell Nuclear Antigen (PCNA)-interacting Protein (PIP) Motif of DNA Polymerase Eta Mediates its Interaction with the C-terminal Domain of Rev1. J. Biol. Chem. PMID: 26903512.
Dieckman LM*., Boehm EM*., et al. (2013) "Distinct Structural Alterations in Proliferating Cell Nuclear Antigen block DNA Mismatch Repair." Biochemistry. PMID: 23869605.
---
Interests
Great Dog Rescue New England, Volunteer