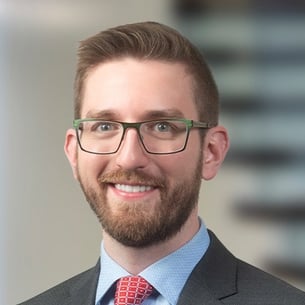 ---
Colin G. Buss, PhD
(he/him/his)

Patent Agent | Biotechnology

Pardon the interruption, but we are lawyers after all, so we need to make sure you understand that calling, or leaving a message does not establish an attorney-client relationship. Also, you need to know the information in your call will not be considered privileged or confidential unless, of course, we already represent you or have agreed to receive limited confidential material from you as a prospective client.

If you are a client, do not call with time-sensitive patent filing instructions and do not assume we have received or are acting upon your filing instructions unless you receive written confirmation from us.

If you would like to discuss becoming a client, please contact one of our attorneys to arrange for a meeting or telephone conference.

There, that wasn't so bad, was it? Thank you for your interest in Wolf Greenfield.

Accept & Call

617.646.8159

Pardon the interruption, but we are lawyers after all, so we need to make sure you understand that sending an email does not establish an attorney-client relationship. Also, you need to know the information in your email will not be considered privileged or confidential unless, of course, we already represent you or have agreed to receive limited confidential material from you as a prospective client.

If you are a client, do not send time-sensitive patent filing instructions just to this email recipient. Also send to filinginstructions@wolfgreenfield.com and do not assume we have received or are acting upon your filing instructions unless you receive written confirmation from us.

If you would like to discuss becoming a client, please contact one of our attorneys to arrange for a meeting or telephone conference.

There, that wasn't so bad, was it? Thank you for your interest in Wolf Greenfield.

Accept & Email

Colin.Buss@WolfGreenfield.com

LinkedIn Profile
---
Overview
Colin Buss assists the firm in patent matters related to biotechnology. He works with a range of clients, including small and large biotechnology companies and universities. His experience includes patent application drafting and prosecution, patentability studies, freedom-to-operate analyses, third-party IP assessment (including diligences, risk assessment, and validity analyses), and general IP strategy.
Colin has extensive knowledge and experience in the areas of immune cell profiling, immunotherapies, nanoparticle synthesis and characterization, primary cell isolation and culture, oligonucleotide technologies (e.g., antisense technologies, RNAi, and splicing modulation), antibodies and antibody-drug conjugates, synthetic biology, various animal models, and more.
Prior to joining Wolf Greenfield, Colin received his PhD in Medical Engineering and Medical Physics from the Harvard-MIT Health Sciences & Technology program. His doctoral research related to nanotechnologies for use in the treatment and diagnosis of various diseases with immunological involvement. His work focused particularly on developing and adapting nanoparticle technologies for the diagnosis, treatment and monitoring of disease, with applications in lung infections and various types of cancer, and included extensive work in cancer immunotherapy. He is also co­inventor of patent applications related to his doctoral thesis work.
---
Experience
Prepared and assisted in prosecution of US and foreign patent applications relating to a range of technologies in the biotechnology space
Assisted in the management of global patent portfolios, including those covering clinical stage therapeutics and diagnostics
Conducted patentability and freedom-to-operate searches and analyses
Analyzed third-party IP for risk assessment and validity
Prepared third-party submissions and oppositions in pending patent applications and issued patents
---
Activities
Biomedical Engineering Society
American Institute of Chemical Engineers
---
Recognition
NSF Graduate Research Fellowship, National Science Foundation
---
CG Buss, Bhatia, SN. "Nanoparticle delivery of immunostimulatory oligonucleotides enhances response to checkpoint inhibitor therapeutics." PNAS 117(24):13428-13436 (2020). Doi: 10.1073/pnas.2001569117
CG Buss† , Dudani, JS†, Akana, RTK, Fleming, HE, Bhatia, SN. "Protease activity sensors noninvasively classify bacterial infections and antibiotic responses." EBioMedicine 38: 248-256 (2018). doi:10.1016/j.ebiom.2018.11.031
SR Viswanathan, Nogueira, MF†, Buss, CG†, Krill-Burger, JM, Wawer, MJ, Malolepsza, E, Berger, AC, Choi, PS, Shih, J, Taylor, AM, Tanenbaum, B, Pedamallu, CS, Cherniack, AD, Tamayo, P, Strathdee, CA, Lage, K,Carr, SA, Schenone, M, Bhatia, SN, Vazquez, F, Tsherniak, A, Hahn, WC, Meyerson, M, "Genome-scale analysis identifies paralog lethality as a vulnerability of chromosome 1p loss in cancer." Nature Genetics 50(7):937-943 (2018). doi:10.1038/s41588-018-0155-3
JS Dudani, Buss, CG, Akana, RTK, Kwong, GA, Bhatia, SN, "Sustained‐Release Synthetic Biomarkers for Monitoring Thrombosis and Inflammation Using Point‐of‐Care Compatible Readouts." Advanced Functional Materials 26(17): 2919-2928 (2016). doi:10.1002/adfm.201505142
H Goodarzi, Zhang, S, Buss, CG, Fish, L, Tavazoie, S, Tavazoie, SF, "Metastasis-suppressor transcript destabilization through TARBP2 binding of mRNA hairpins", Nature 513: 256-260 (2014).doi:10.1038/nature13466
N Pencheva†, Buss, CG†, Posada, J, Merghoub, T, Tavazoie, SF, "Broad-Spectrum Therapeutic Suppression of Metastatic Melanoma through Nuclear Hormone Receptor Activation." Cell 156(5): 986-1001 (2014).doi:10.1016/j.cell.2014.01.038
N Pencheva, Tran, H†, Buss, CG†, Huh, D, Drobnjak, M, Busam, K, Tavazoie, SF, "Convergent multi-miRNA Targeting of ApoE Drives LRP1/LRP8-Dependent Melanoma Metastasis and Angiogenesis." Cell 151(5): 1068-1082 (2012).doi:10.1016/j.cell.2012.10.028
---
Interests
Colin is an active runner, amateur photographer, and aspiring chef.