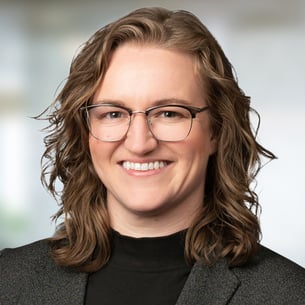 ---
Caitlin Schneider, PhD
(she/her/hers)

Technology Specialist | Biotechnology

Pardon the interruption, but we are lawyers after all, so we need to make sure you understand that calling, or leaving a message does not establish an attorney-client relationship. Also, you need to know the information in your call will not be considered privileged or confidential unless, of course, we already represent you or have agreed to receive limited confidential material from you as a prospective client.

If you are a client, do not call with time-sensitive patent filing instructions and do not assume we have received or are acting upon your filing instructions unless you receive written confirmation from us.

If you would like to discuss becoming a client, please contact one of our attorneys to arrange for a meeting or telephone conference.

There, that wasn't so bad, was it? Thank you for your interest in Wolf Greenfield.

Accept & Call

617.646.8022

Pardon the interruption, but we are lawyers after all, so we need to make sure you understand that sending an email does not establish an attorney-client relationship. Also, you need to know the information in your email will not be considered privileged or confidential unless, of course, we already represent you or have agreed to receive limited confidential material from you as a prospective client.

If you are a client, do not send time-sensitive patent filing instructions just to this email recipient. Also send to filinginstructions@wolfgreenfield.com and do not assume we have received or are acting upon your filing instructions unless you receive written confirmation from us.

If you would like to discuss becoming a client, please contact one of our attorneys to arrange for a meeting or telephone conference.

There, that wasn't so bad, was it? Thank you for your interest in Wolf Greenfield.

Accept & Email

caitlin.schneider@wolfgreenfield.com

LinkedIn Profile
---
Overview
Caitlin Schneider assists the Biotechnology Practice in US and foreign patent prosecution for clients including start-ups, multinational companies, and research institutions. Caitlin has extensive experience in immunology, microbiology, neuroscience, developmental biology, oncology, infectious disease, hematopoiesis, microbiome, and autoimmunity.
Caitlin's legal experience includes assisting with legal research, reviewing briefs, and tracking appeals.
Prior to joining Wolf Greenfield, Caitlin was a postdoctoral associate at the Massachusetts Institute of Technology in the The Picower Institute for Learning and Memory. Caitlin earned her PhD at McGill University studying the link between immune cell migration and T cell effector differentiation. She explored the role of immune cell migration in inflammasome activation and its impact on the host response to infection.
---
Activities
Canadian Society for Immunology
---
Recognition
C. Harrison Fellowship (2020-2021)
Meetings d'Immunologie Montreal 'People's Choice' Oral Presentation Award (2020)
Samuel L. Lupovitch Fellowship (2019-2020)
Schnabel Memorial Graduate Award (2019-2020)
Wares Family Graduate Travel Award (2019)
Meetings d'Immunologie Montreal Abstract Award (2019)
Graduate Excellence Fellowship (2019)
C. Harrison Fellowship (2019)
Graduate Research Day 1st Place Oral Presentation (2019)
---
Scientific Publications
Rogers, D., Aditi, S., Wang, H., van Beek, J.J.P., Rademaker, T.J., Artusa, P., Schneider, C., Shen, C., Wong, D.C., Lebel, M., Condotta, S.A., Richer, M.J., Martins, A.J., Tsang, J.S., Barreiro, L., Francois, P., Langlai, D., Melichar, H.J., Textor, J., Mandl, J.N. (2021) "Pre-existing chromatin accessibility and gene expression differences among naïve CD4+ T cells influence effector potential." Cell Reports 30;37(9).
Schnabl, J., Litz, M.P.H., Schneider, C., Penkoff-Lidbeck, N., Bashiruddin, S., Schwartz, M.S., Alligood, K., and Barresi, M.J. "Characterizing the diverse cells that associate with the developing commissures of the zebrafish forebrain." Developmental Neurobiology, doi: 10.1002/dneu.22801 (online ahead of print).
Schneider, C., Shen, C., Gopal, A.A., Douglas, T., Forestell, B., Kauffman, K.D., Rogers, D., Artusa, P., Zhang, Q., Jing, H., Freeman, A.F., Barber, D.L., King, I.L., Saleh, M., Wiseman, P.W., Su, H.C., Mandl, J.N. (2020) "Migration-induced cell shattering due to DOCK8-deficiency causes a type-2 biased helper T cell response." Nature Immunology 21:1528-1539.
Mandl, J.N., Schneider, C., Schneider, D.S., and Baker, M.L. (2018) "Going to bat(s) for studies of disease tolerance." Frontiers in Immunology 9:2112.
Johnson K., Barragan J., Bashiruddin S., Smith C.J., Tyrrell C., Parsons M.J., Doris R., Kucenas S., Downes G.B., Velez C.M., Schneider C., Sakai C., Pathak N., Anderson K., Stein R., Devoto S.H., Mumm J.S., Barresi M.J. (2016) "Gfap-positive radial glial cells are an essential progenitor population for later-born neurons and glia in the zebrafish spinal cord." Glia 64(7):1170-1189
---
Interests
In her spare time, she enjoys drinking Old Fashioneds and amateur cat photography, often simultaneously.