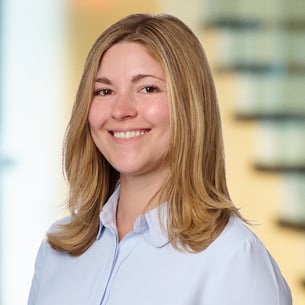 ---
Samantha C. Collins, PhD
(she/her/hers)

Technology Specialist | Chemical & Materials Technologies

Pardon the interruption, but we are lawyers after all, so we need to make sure you understand that calling, or leaving a message does not establish an attorney-client relationship. Also, you need to know the information in your call will not be considered privileged or confidential unless, of course, we already represent you or have agreed to receive limited confidential material from you as a prospective client.

If you are a client, do not call with time-sensitive patent filing instructions and do not assume we have received or are acting upon your filing instructions unless you receive written confirmation from us.

If you would like to discuss becoming a client, please contact one of our attorneys to arrange for a meeting or telephone conference.

There, that wasn't so bad, was it? Thank you for your interest in Wolf Greenfield.

Accept & Call

617.646.8564

Pardon the interruption, but we are lawyers after all, so we need to make sure you understand that sending an email does not establish an attorney-client relationship. Also, you need to know the information in your email will not be considered privileged or confidential unless, of course, we already represent you or have agreed to receive limited confidential material from you as a prospective client.

If you are a client, do not send time-sensitive patent filing instructions just to this email recipient. Also send to filinginstructions@wolfgreenfield.com and do not assume we have received or are acting upon your filing instructions unless you receive written confirmation from us.

If you would like to discuss becoming a client, please contact one of our attorneys to arrange for a meeting or telephone conference.

There, that wasn't so bad, was it? Thank you for your interest in Wolf Greenfield.

Accept & Email

Samantha.Collins@WolfGreenfield.com

LinkedIn Profile
---
Overview
Samantha Collins assists the Chemical & Materials Technologies Practice, the Mechanical Technologies Practice, and the Biotechnology Practice in patent prosecution. Samantha's technical background includes experience serving clients in areas including but not limited to polymers, nanotechnology, metal alloys, medical devices, microfluidics, 3D printing, and semiconductor devices. Samantha regularly assists with patent application drafting, patent prosecution, patentability searching, freedom-to-operate analyses, landscape searching, invalidity opinion work, and infringement analyses.
Prior to joining Wolf Greenfield, Samantha worked as a doctoral researcher at the Massachusetts Institute of Technology in the research groups of Professors Paula T. Hammond and Angela M. Belcher. She researched and presented on different approaches towards remotely triggered therapeutic delivery using synthesis and self-assembly of polymeric materials, and synthesized and characterized inorganic materials for catalysis applications. She served as lab manager, laboratory equipment steward, and a mentor for three undergraduate students. Samantha also worked as a teaching assistant for a graduate-level colloid and surfactant science course and developed several problems and solutions with the instructor, Professor Daniel Blankschtein.
As an undergraduate at the University of Pennsylvania, Samantha conducted materials science and engineering research in both academia and industry and presented her work on each project. She researched the self-assembly of diblock copolymers for solar cell applications in the research group of Professor Russell J. Composto. As a visiting undergraduate researcher at Princeton University, Samantha investigated peptide printing for diagnostics applications. Samantha worked as a teaching assistant in a materials science and engineering laboratory course with Professor Daniel Gianola. For Johnson & Johnson, Samantha conducted materials characterization research on sunscreen and researched self-assembly for diagnostics applications. She also carried out materials science research on mouthwash for Colgate-Palmolive.
---
Experience
Conducted a landscape analysis to understand risks and weaknesses with respect to a third-party IP portfolio in the US. The results of this analysis informed our client's strategy in terms of licensing negotiations with the third party.
Worked closely with a start-up company to assist with development of a patent application portfolio to cover their core technology, which the start-up then used when presenting to potential business partners and funding sources. Our work contributed to at least one successful partnership pitch by the start-up.
Assisted with drafting and prosecuting patent applications for technologies in diverse technical areas ranging from space propulsion to oil recovery for an internationally prestigious research university.
Assisted with drafting multiple patent applications and prosecuting patent applications to allowance for an innovative genomics company. Assisted company with a competitor analysis and evaluation of a patent notice letter, including assisting with evaluating the merits of infringement allegations in the letter.
---
Activities
Boston Intellectual Property Law Association
---
Recognition
National Science Foundation Graduate Research Fellowships Program Fellow (2011-2016)
Walsh (1937) Memorial Presidential Fellow, MIT (2011 – 2012)
David H. Koch (1962) Fellow, MIT (2011 – 2012)
William R. Graham Materials Science and Engineering Senior Design Award, UPenn (2011)
Hugo Otto Wolf Memorial Prize, UPenn (2011)
Dean's List, UPenn (2007 – 2011)
Robert C. Byrd Honors Scholarship (2007 – 2011)
---
Interests
Samantha enjoys playing tennis, figure skating, kayaking, and going to museums and concerts.