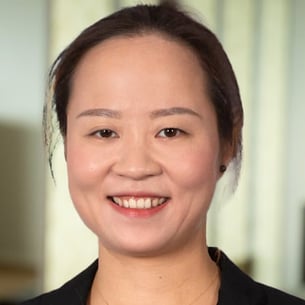 ---
Lingyin Ge, PhD
(she/her/hers)

Patent Agent | Biotechnology

Pardon the interruption, but we are lawyers after all, so we need to make sure you understand that calling, or leaving a message does not establish an attorney-client relationship. Also, you need to know the information in your call will not be considered privileged or confidential unless, of course, we already represent you or have agreed to receive limited confidential material from you as a prospective client.

If you are a client, do not call with time-sensitive patent filing instructions and do not assume we have received or are acting upon your filing instructions unless you receive written confirmation from us.

If you would like to discuss becoming a client, please contact one of our attorneys to arrange for a meeting or telephone conference.

There, that wasn't so bad, was it? Thank you for your interest in Wolf Greenfield.

Accept & Call

617.646.8199

Pardon the interruption, but we are lawyers after all, so we need to make sure you understand that sending an email does not establish an attorney-client relationship. Also, you need to know the information in your email will not be considered privileged or confidential unless, of course, we already represent you or have agreed to receive limited confidential material from you as a prospective client.

If you are a client, do not send time-sensitive patent filing instructions just to this email recipient. Also send to filinginstructions@wolfgreenfield.com and do not assume we have received or are acting upon your filing instructions unless you receive written confirmation from us.

If you would like to discuss becoming a client, please contact one of our attorneys to arrange for a meeting or telephone conference.

There, that wasn't so bad, was it? Thank you for your interest in Wolf Greenfield.

Accept & Email

Lingyin.Ge@WolfGreenfield.com

LinkedIn Profile
---
Overview
Lingyin Ge assists the Biotechnology Practice in US and foreign patent preparation and prosecution, freedom-to-operate analysis, IP landscape analysis, and due diligence. She draws from her scientific background when assisting life sciences clients, including start-ups, mid-large size companies, and research institutions, with their intellectual property needs.
Lingyin has extensive knowledge in the areas of gene therapy, antibodies, therapeutic peptides, antisense oligonucleotides, and biomolecule production.
Prior to joining Wolf Greenfield, Lingyin was a project scientist at Cedars-Sinai Medical Center. She conducted research on pulmonary fibrosis and lung injury. Lingyin also interned in the tech transfer office at Cedars-Sinai, where she evaluated patentability and marketability of disclosed therapeutic and medical device inventions and assisted external legal counsel in drafting patent applications and office action responses.
Lingyin received her PhD from Stony Brook University. Her research focused on DBP-Actin complex serves as Danger Associated Molecular Pattern (DAMPs) to induce acute lung injury in sepsis and trauma patients.
---
Experience
Assisted a leading pharmaceutical company to maintain and improve a patent portfolio and develop global prosecution strategy inline with client's commercial interests
Assisted a start-up biotech company to build and expand patent portfolios to various programs
---
Activities
Boston Intellectual Property Law Association
---
Scientific Publications
Parimon T, Brauer R, Schlesinger SY, Xie T, Jiang D, Ge L, Huang Y, Birkland T, Parks WC, Habiel D, Hogaboam C, Gharib SA, Deng N, Liu Z, Chen P. Am J Pathol. 2018 Jan 31.
Ge L, Habiel DM, Hansbro PM, Kim RY, Gharib SA, Edelman JD, Konigshoff M, Parimon T, Brauer R, Huang Y, Allen J, Jiang D, Kurkciyan AA, Mizuno T, Stripp BR, Noble PW, Hogaboam CM, Chen P. JCI Insight. 2016 Dec 8.
Brauer R, Ge L, Schlesinger SY, Birkland TP, Huang Y, Parimon T, Lee V, McKinney BL, McGuire JK, Parks WC, Chen P. Am J Respir Crit Care Med. 2016 Aug 1.
Gharib SA, Edelman JD, Ge L, Chen P. Transplant Direct. 2015 Nov;1(10).
Kirillov V, Siler JT, Ramadass M, Ge L, Davis J, Grant G, Nathan SD, Jarai G, Trujillo G. Am J Pathol. 2015 Apr.
Ge L, Trujillo G, Miller EJ, Kew RR. Immunobiology. 2014 Mar.
Trujillo G, Habiel DM, Ge L, Ramadass M, Cooke NE, Kew RR. J Immunol. 2013 Jul 15.
Trujillo G, Zhang J, Habiel DM, Ge L, Ramadass M, Ghebrehiwet B, Kew RR. Mol Immunol. 2011 Dec.
---
Interests
I'm a zealous collector of minerals, gemstones, and rocks.