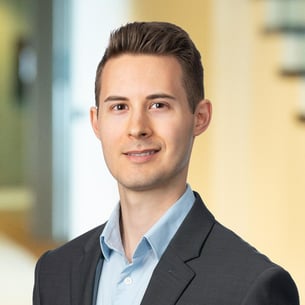 ---
Tyler N. Goddard, PhD
(he/him/his)

Patent Agent | Pharmaceutical

Pardon the interruption, but we are lawyers after all, so we need to make sure you understand that calling, or leaving a message does not establish an attorney-client relationship. Also, you need to know the information in your call will not be considered privileged or confidential unless, of course, we already represent you or have agreed to receive limited confidential material from you as a prospective client.

If you are a client, do not call with time-sensitive patent filing instructions and do not assume we have received or are acting upon your filing instructions unless you receive written confirmation from us.

If you would like to discuss becoming a client, please contact one of our attorneys to arrange for a meeting or telephone conference.

There, that wasn't so bad, was it? Thank you for your interest in Wolf Greenfield.

Accept & Call

617.646.8306

Pardon the interruption, but we are lawyers after all, so we need to make sure you understand that sending an email does not establish an attorney-client relationship. Also, you need to know the information in your email will not be considered privileged or confidential unless, of course, we already represent you or have agreed to receive limited confidential material from you as a prospective client.

If you are a client, do not send time-sensitive patent filing instructions just to this email recipient. Also send to filinginstructions@wolfgreenfield.com and do not assume we have received or are acting upon your filing instructions unless you receive written confirmation from us.

If you would like to discuss becoming a client, please contact one of our attorneys to arrange for a meeting or telephone conference.

There, that wasn't so bad, was it? Thank you for your interest in Wolf Greenfield.

Accept & Email

Tyler.Goddard@WolfGreenfield.com
---
Overview
Tyler Goddard assists clients with patent preparation and prosecution in the pharmaceutical and biotechnology spaces. Tyler has extensive knowledge and experience in the areas of biochemistry and medicinal chemistry, and his areas of focus include gene editing technologies and small molecule and nucleic acid therapeutics.
Prior to joining Wolf Greenfield, Tyler obtained his PhD in chemical biology from Yale University. During this time, Tyler was a graduate researcher, where he discovered and characterized the biosynthesis and bioactivities of novel bacterial natural products with anti-inflammatory and antibiotic activities. He also discovered enzymes with potential therapeutic applications in the treatment of aging-associated diseases.
As an undergraduate at Baylor University, Tyler received his BS in biochemistry. As an undergraduate researcher, he worked in a medicinal chemistry lab focused on the synthesis of anti-cancer compounds.
Tyler is listed as a co-inventor on two patent applications.
---
Experience
Prepared and prosecuted US and foreign patent applications on a wide range biotechnology and pharmaceutical technologies
Performed patentability and freedom-to-operate searches and provided advice to clients on the same
---
Recognition
NIH Chemistry-Biology Interface Predoctoral Training Fellow
---
Goddard, T.N., Patel, J., Park, H.B., Crawford, J.M. Dimeric stilbene antibiotics target the bacterial cell wall in drug-resistant Gram-positive pathogens. Biochemistry. 2020, 59(21), 1966-1971.
Park, H.B.*, Goddard, T.N.*, Oh, J., Patel, J., Wei, Z., Perez, C.E., Mercado, B.Q., Wang, R., Wyche, T., Piizzi,G., Flavell, R.A., Crawford, J.M. Bacterial autoimmune drug metabolism transforms an immunomodulator into structurally and functionally divergent antibiotics. Angew Chem Int Ed. 59(20): 7871-7880
Kim, N.Y., Goddard, T.N., Sohn, S., Spiegel, D.A., Crawford, J.M. Biocatalytic reversal of advanced glycation end product modification. ChemBioChem. 2019, 20, 2402-2410