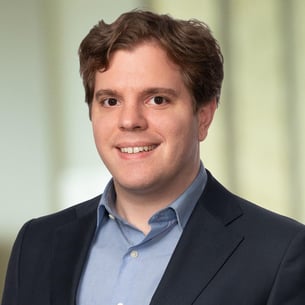 ---
Nathan T. Jacobs, PhD
(he/him/his)

Patent Agent | Biotechnology

Pardon the interruption, but we are lawyers after all, so we need to make sure you understand that calling, or leaving a message does not establish an attorney-client relationship. Also, you need to know the information in your call will not be considered privileged or confidential unless, of course, we already represent you or have agreed to receive limited confidential material from you as a prospective client.

If you are a client, do not call with time-sensitive patent filing instructions and do not assume we have received or are acting upon your filing instructions unless you receive written confirmation from us.

If you would like to discuss becoming a client, please contact one of our attorneys to arrange for a meeting or telephone conference.

There, that wasn't so bad, was it? Thank you for your interest in Wolf Greenfield.

Accept & Call

617.646.8557

Pardon the interruption, but we are lawyers after all, so we need to make sure you understand that sending an email does not establish an attorney-client relationship. Also, you need to know the information in your email will not be considered privileged or confidential unless, of course, we already represent you or have agreed to receive limited confidential material from you as a prospective client.

If you are a client, do not send time-sensitive patent filing instructions just to this email recipient. Also send to filinginstructions@wolfgreenfield.com and do not assume we have received or are acting upon your filing instructions unless you receive written confirmation from us.

If you would like to discuss becoming a client, please contact one of our attorneys to arrange for a meeting or telephone conference.

There, that wasn't so bad, was it? Thank you for your interest in Wolf Greenfield.

Accept & Email

Nathan.Jacobs@WolfGreenfield.com

LinkedIn Profile
---
Overview
Nathan Jacobs assists the Biotechnology Practice in patent application drafting, patent prosecution, due diligence, patent portfolio management, and freedom-to-operate studies in cell therapy, gene therapy, microbiome therapy, fermentation, molecular biology, and genetics. With a background in infectious disease research, he has extensive knowledge in the areas of virology, microbiology, and immunology.
Nate's technical experience extends to viral delivery vectors, viral and bacterial reverse genetics, synthetic antibody technologies, cell culture, flow cytometry analysis and sorting methods, PCR-based molecular biology methods, DNA and RNA sequencing, and bioinformatics. As a PhD student, he assisted the Emory Patent Group with conducting prior art searches, evaluating invention disclosures for patentability, drafting patent applications, and drafting responses to office actions.
Prior to joining Wolf Greenfield, Nate was a postdoctoral fellow in Jeffrey Weiser's lab at NYU Langone Health, where he conducted research on the transmission of influenza A virus and Streptococcus pneumoniae. Nate's PhD research in Anice Lowen's lab at Emory University focused on the reassortment, transmission, and evolution of influenza A viruses.
---
Experience
Assisted in drafting and prosecution of patent applications in the areas of microbiome therapeutics, genetic circuits, Treg therapies, nucleic acid vaccines, animal models of disease, methods of genome editing, and nucleic acid production and purification,
Conducted ongoing freedom-to-operate studies for industrial client in rapidly evolving therapeutic area.
Assisted in the development and early implementation of an IP strategy for a start-up cell therapy company.
---
Activities
Boston Intellectual Property Law Association
---
Recognition
Infectious Diseases and Basic Microbiological Mechanisms trainee (NIH/NIAID T32 training award)
Burroughs Wellcome Fund Molecules to Mankind Fellowship
National Science Foundation Graduate Research Fellowship Honorable Mention
---
Scientific Publications
Jacobs NT, Onuoha NO, Antia A, Steel J, Antia R, Lowen AC. (2019). Incomplete influenza A virus genomes occur frequently but are readily complemented during localized viral spread. Nat Commun. 10(1):3526.
Jacobs NT, Weiser JN. (2020). Competitive exclusion strengthens selection for transmissibility and increases the benefit of recombination for within-host adaptation. bioRxiv. doi: 10.1101/2020.06.18.158956.
Wu X*, Jacobs NT*, Bozio C, Palm P, Lattar SM, Hanke CR, Watson DM, Sakai F, Levin BR, Klugman KP, Vidal JE. (2017). Competitive Dominance within Biofilm Consortia Regulates the Relative Distribution of Pneumococcal Nasopharyngeal Density. Appl Environ Microbiol. 83(16):e00953-17. *Equal contribution.
Hockman MR, Jacobs NT, Mainou BA, Koelle K, Lowen AC. (2022). Mammalian Orthoreovirus Proceeds with Little Constraint on Segment Mixing. J Virol. 96(4):e0183221.
Phipps KL, Ganti K, Jacobs NT, Lee CY, Carnaccini S, White MC, Manandhar M, Pickett BE, Tan GS, Ferreri LM, Perez DR, Lowen AC. (2020). Collective interactions augment influenza A virus replication in a host-dependent manner. Nat Microbiol. doi: 10.1038/s41564-020-0749-2.
Calderon BM, Danzy S, Delima GK, Jacobs NT, Ganti K, Hockman MR, Conn GL, Lowen AC, Steel J. (2019). Dysregulation of M segment gene expression contributes to influenza A virus host restriction. PLoS Pathog. 15(8):e1007892.
Richard M, Herfst S, Tao H, Jacobs NT, Lowen AC. (2018). Influenza A Virus Reassortment Is Limited by Anatomical Compartmentalization following Coinfection via Distinct Routes. J Virol. 92(5):e02063-17.
Matar CG, Jacobs NT, Speck SH, Lamb TJ, Moormann AM. (2015). Does EBV alter the pathogenesis of malaria? Parasite Immunol. 37(9):433-45.
Matar CG, Anthony NR, O'Flaherty BM, Jacobs NT, Priyamvada L, Engwerda CR, Speck SH, Lamb TJ. (2015). Gammaherpesvirus Co-infection with Malaria Suppresses Anti-parasitic Humoral Immunity. PLoS Pathog. 11(5):e1004858.
Smallridge WE, Rolin OY, Jacobs NT, Harvill ET. (2014). Different effects of whole-cell and acellular vaccines on Bordetella transmission. J Infect Dis. 209(12):1981-8.
---
Interests
Nate enjoys photography, cooking, and board games.