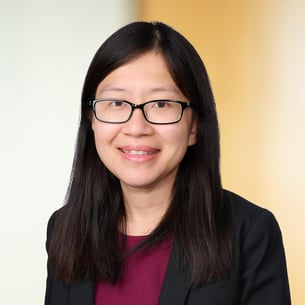 ---
Flora Luo, PhD
(she/her/hers)

Associate | Biotechnology

Pardon the interruption, but we are lawyers after all, so we need to make sure you understand that calling, or leaving a message does not establish an attorney-client relationship. Also, you need to know the information in your call will not be considered privileged or confidential unless, of course, we already represent you or have agreed to receive limited confidential material from you as a prospective client.

If you are a client, do not call with time-sensitive patent filing instructions and do not assume we have received or are acting upon your filing instructions unless you receive written confirmation from us.

If you would like to discuss becoming a client, please contact one of our attorneys to arrange for a meeting or telephone conference.

There, that wasn't so bad, was it? Thank you for your interest in Wolf Greenfield.

Accept & Call

617.646.8591

Pardon the interruption, but we are lawyers after all, so we need to make sure you understand that sending an email does not establish an attorney-client relationship. Also, you need to know the information in your email will not be considered privileged or confidential unless, of course, we already represent you or have agreed to receive limited confidential material from you as a prospective client.

If you are a client, do not send time-sensitive patent filing instructions just to this email recipient. Also send to filinginstructions@wolfgreenfield.com and do not assume we have received or are acting upon your filing instructions unless you receive written confirmation from us.

If you would like to discuss becoming a client, please contact one of our attorneys to arrange for a meeting or telephone conference.

There, that wasn't so bad, was it? Thank you for your interest in Wolf Greenfield.

Accept & Email

Flora.Luo@WolfGreenfield.com

LinkedIn Profile
---
Overview
Flora Luo assists the firm in biotechnology patent prosecution. She has extensive knowledge in the areas of genomic screening and cellular and molecular biology.
Prior to joining Wolf Greenfield, Flora was a graduate researcher in the Laboratory of Dr. Levi Garraway at the Dana Farber Cancer Institute in Boston, MA, where she mapped the landscape of resistance to cell cycle inhibitors in ER+ breast cancer with genomic screens and identified therapeutic strategies to combat resistance to CDK4/6 inhibition. As an undergraduate, she conducted her honors thesis in the Laboratory of Dr. Marianne Wessling-Resnick at the Harvard School of Public Health, where she used chemical genetics to characterize the role of the human hemochromatosis factor in cellular iron homeostasis.
---
Activities
American Association for Cancer Research
Harvard Mini MBA 2015
---
Recognition
Ruth L. Kirschstein National Research Service F31 Award (2015-2017)
Tufts New England Case Competition 2015 – Third Place
---
Scientific Publications
Le, X., Anthony, R., Razavi, P., Treacy, D.J., Luo, F. et al. (2016). Systematic Functional Characterization of Resistance to PI3K Inhibition in Breast Cancer. Cancer Discov 6, 1134-1147.
Whittaker, S.R., Cowley, G.S., Wagner, S., Luo, F. et al. (2015). Combined Pan-RAF and MEK Inhibition Overcomes Multiple Resistance Mechanisms to Selective RAF Inhibitors. Mol Cancer Ther 14, 2700-2711.
Byrne, S.L., Buckett, P.D., Kim, J., Luo, F. et al. (2013). Ferristatin II promotes degradation of transferrin receptor-1 in vitro and in vivo. PLoS One 8, e70199.