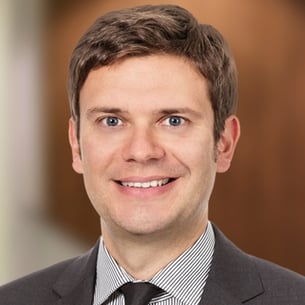 ---
Michele Moresco
(he/him/his)

Associate | Electrical & Computer Technologies

Pardon the interruption, but we are lawyers after all, so we need to make sure you understand that calling, or leaving a message does not establish an attorney-client relationship. Also, you need to know the information in your call will not be considered privileged or confidential unless, of course, we already represent you or have agreed to receive limited confidential material from you as a prospective client.

If you are a client, do not call with time-sensitive patent filing instructions and do not assume we have received or are acting upon your filing instructions unless you receive written confirmation from us.

If you would like to discuss becoming a client, please contact one of our attorneys to arrange for a meeting or telephone conference.

There, that wasn't so bad, was it? Thank you for your interest in Wolf Greenfield.

Accept & Call

617.646.8281

Pardon the interruption, but we are lawyers after all, so we need to make sure you understand that sending an email does not establish an attorney-client relationship. Also, you need to know the information in your email will not be considered privileged or confidential unless, of course, we already represent you or have agreed to receive limited confidential material from you as a prospective client.

If you are a client, do not send time-sensitive patent filing instructions just to this email recipient. Also send to filinginstructions@wolfgreenfield.com and do not assume we have received or are acting upon your filing instructions unless you receive written confirmation from us.

If you would like to discuss becoming a client, please contact one of our attorneys to arrange for a meeting or telephone conference.

There, that wasn't so bad, was it? Thank you for your interest in Wolf Greenfield.

Accept & Email

Michele.Moresco@WolfGreenfield.com

LinkedIn Profile
---
Overview
Michele Moresco focuses on patent prosecution in the electrical and computer technologies space. He also supports patent litigation and IPR matters and has extensive knowledge in the areas of photonics, optical communications, semiconductor materials, electromagnetic materials, and processing.
Prior to joining Wolf Greenfield, Michele was a postdoctoral associate at Massachusetts Institute of Technology. While at MIT, Michele designed and tested electrical and optical systems for a number of applications, including LIDAR sensors for autonomous vehicles, erbium lasers, infrared and visible pixel arrays, and optical wireless links for satellite communications. He also led the operations of a $4 million DARPA-funded project to develop a silicon photonics fabrication platform for high volume manufacturing and was co-awarded $100K from MIT-Deshpande Center to commercialize low power 100G-Ethernet system for Internet Data Centers.
Michele worked as a research scientist at Photonic Corporation, where he developed a prototype for 1024-cores microprocessor for next generation supercomputers. As a graduate student at Boston University, Michele modeled and designed infrared detectors for atmospheric carbon dioxide profiling employing avalanche photodiodes. He also designed silicon-based light emitting diodes.
---
Recognition
Best student presentation award at II-VI Semiconductors Workshop (2009)
Best student presentation award at Numerical Simulation of Optoelectronic Devices Workshop (2010)