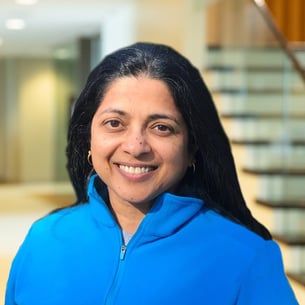 ---
Usha K.M. Parker
(she/her/hers)

Counsel | Electrical & Computer Technologies

Pardon the interruption, but we are lawyers after all, so we need to make sure you understand that calling, or leaving a message does not establish an attorney-client relationship. Also, you need to know the information in your call will not be considered privileged or confidential unless, of course, we already represent you or have agreed to receive limited confidential material from you as a prospective client.

If you are a client, do not call with time-sensitive patent filing instructions and do not assume we have received or are acting upon your filing instructions unless you receive written confirmation from us.

If you would like to discuss becoming a client, please contact one of our attorneys to arrange for a meeting or telephone conference.

There, that wasn't so bad, was it? Thank you for your interest in Wolf Greenfield.

Accept & Call

617.646.8027

Pardon the interruption, but we are lawyers after all, so we need to make sure you understand that sending an email does not establish an attorney-client relationship. Also, you need to know the information in your email will not be considered privileged or confidential unless, of course, we already represent you or have agreed to receive limited confidential material from you as a prospective client.

If you are a client, do not send time-sensitive patent filing instructions just to this email recipient. Also send to filinginstructions@wolfgreenfield.com and do not assume we have received or are acting upon your filing instructions unless you receive written confirmation from us.

If you would like to discuss becoming a client, please contact one of our attorneys to arrange for a meeting or telephone conference.

There, that wasn't so bad, was it? Thank you for your interest in Wolf Greenfield.

Accept & Email

Usha.Parker@WolfGreenfield.com

LinkedIn Profile
---
Overview
Usha Parker focuses her practice on all aspects of patent prosecution related to electrical and mechanical technologies.
Usha's areas of technical experience include wireless communication, autonomous vehicles, automotive sensor and processing systems, neural networks and neural network applications, semiconductors, integrated circuit design, aircraft and space systems, and software.
Prior to beginning her law career, Usha worked as an electrical engineer at Motorola and at a Navy lab in areas including satellite and cellular telephony, radar systems, and missile fuses.
---
Activities
Chair, Electronics and Computer Law Committee (ECLC), American Intellectual Property Law Association (AIPLA) – 2023 – present
Vice Chair, ECLC – 2021–2023
Chair, Preparation and Prosecution Subcommittee of ECLC – 2020–2021
---
Recognition
Member of Tau Beta Pi (engineering), Eta Kappa Nu (electrical engineering), and Kappa Mu Epsilon (mathematics) honor societies
---
Nguyen, P., & Munukutla-Parker, U. (2012). Patents in Electronic Commerce. In Internet Law for the Business Lawyer (Second Edition, pp. 49–65). chapter, ABA Book Publishing.