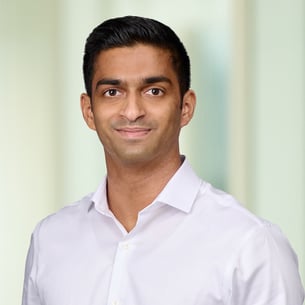 ---
Roshan Plamthottam, PhD
(he/him/his)

Patent Agent | Chemical & Materials Technologies

Pardon the interruption, but we are lawyers after all, so we need to make sure you understand that calling, or leaving a message does not establish an attorney-client relationship. Also, you need to know the information in your call will not be considered privileged or confidential unless, of course, we already represent you or have agreed to receive limited confidential material from you as a prospective client.

If you are a client, do not call with time-sensitive patent filing instructions and do not assume we have received or are acting upon your filing instructions unless you receive written confirmation from us.

If you would like to discuss becoming a client, please contact one of our attorneys to arrange for a meeting or telephone conference.

There, that wasn't so bad, was it? Thank you for your interest in Wolf Greenfield.

Accept & Call

617.646.8770

Pardon the interruption, but we are lawyers after all, so we need to make sure you understand that sending an email does not establish an attorney-client relationship. Also, you need to know the information in your email will not be considered privileged or confidential unless, of course, we already represent you or have agreed to receive limited confidential material from you as a prospective client.

If you are a client, do not send time-sensitive patent filing instructions just to this email recipient. Also send to filinginstructions@wolfgreenfield.com and do not assume we have received or are acting upon your filing instructions unless you receive written confirmation from us.

If you would like to discuss becoming a client, please contact one of our attorneys to arrange for a meeting or telephone conference.

There, that wasn't so bad, was it? Thank you for your interest in Wolf Greenfield.

Accept & Email

roshan.plamthottam@wolfgreenfield.com

LinkedIn Profile
---
Overview
Roshan Plamthottam assists the firm in patent prosecution in areas related to chemistry and materials science. With a background in materials science, environmental sustainability, materials engineering, electromechanical devices, and soft robotics applications, Roshan utilizes his technical experience when working with clients.
Before joining Wolf Greenfield full time, Roshan was a summer associate in the firm's Chemical & Materials Technologies Practice. Prior to this, he was a Senior Technology Fellow in University of California, Los Angeles' (UCLA) Technology Development Group, where he conducted market research and analyzed commercial viability of cutting-edge technologies generated through university research. Additionally, he has experience drafting and editing non-confidential invention descriptions for publication.
In his scientific research, Roshan has designed, developed, and assessed fabrication processes for dielectric elastomer actuators, as well as facilitated development of a novel nanomaterial purification system for printable conductive inks.
---
Plamthottam, R., Lavenstein, S., El-Awady, J.; Effect of temperature on the suppression of twinning in a-axis textured magnesium and magnesium alloys; MRS Communications 2019
Shi,*, Askounis, E.*, Plamthottam, R.*, Peng, Z., Youssef, K., Pei, Q.; A Processable, High-performance Dielectric Elastomer and Multilayering process; Science 2022