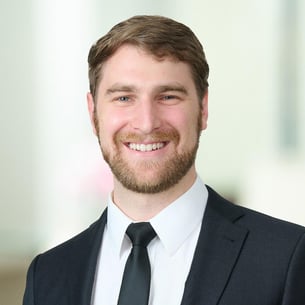 ---
Andrew P. Schlaus, PhD
(he/him/his)

Technology Specialist | Electrical & Computer Technologies

Pardon the interruption, but we are lawyers after all, so we need to make sure you understand that calling, or leaving a message does not establish an attorney-client relationship. Also, you need to know the information in your call will not be considered privileged or confidential unless, of course, we already represent you or have agreed to receive limited confidential material from you as a prospective client.

If you are a client, do not call with time-sensitive patent filing instructions and do not assume we have received or are acting upon your filing instructions unless you receive written confirmation from us.

If you would like to discuss becoming a client, please contact one of our attorneys to arrange for a meeting or telephone conference.

There, that wasn't so bad, was it? Thank you for your interest in Wolf Greenfield.

Accept & Call

212.849.3337

Pardon the interruption, but we are lawyers after all, so we need to make sure you understand that sending an email does not establish an attorney-client relationship. Also, you need to know the information in your email will not be considered privileged or confidential unless, of course, we already represent you or have agreed to receive limited confidential material from you as a prospective client.

If you are a client, do not send time-sensitive patent filing instructions just to this email recipient. Also send to filinginstructions@wolfgreenfield.com and do not assume we have received or are acting upon your filing instructions unless you receive written confirmation from us.

If you would like to discuss becoming a client, please contact one of our attorneys to arrange for a meeting or telephone conference.

There, that wasn't so bad, was it? Thank you for your interest in Wolf Greenfield.

Accept & Email

Andrew.Schlaus@WolfGreenfield.com

LinkedIn Profile
---
Overview
Andrew Schlaus assists the Electrical & Computer Technologies Practice in patent prosecution. He has extensive technical knowledge in a diverse range of topics spanning from fundamental physical process to commercial implementations.
Andrew's technical background includes developing ultrafast non-linear microscopy techniques for studying the emergent quantum mechanical properties of advanced semiconductor materials. Having worked at the intersection of advanced optical techniques and material science, Andrew has experience with advanced materials, optoelectronics, photonics, semiconductor processing, microscopy, interferometry, and ultra-fast laser systems.
Prior to joining Wolf Greenfield, Andrew was a graduate research assistant in the Zhu Group at Columbia University, where he obtained his PhD in Chemical Physics. While there, Andrew developed ultrafast laser microscopy experiments focused on light­matter coupling and quantum coherence. He also served as a consultant to Rhapsody Ventures Partners analyzing startups for potential investors/clients.
---
Interests
Drew enjoys traveling, DSLR photography, and food science. He likes to spend his free time hiking with his camera or experimenting with new flavor combinations.