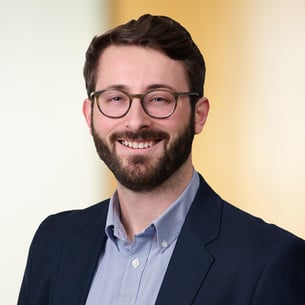 ---
Jonathan R. Thompson, PhD
(he/him/his)

Technology Specialist | Chemical & Materials Technologies

Pardon the interruption, but we are lawyers after all, so we need to make sure you understand that calling, or leaving a message does not establish an attorney-client relationship. Also, you need to know the information in your call will not be considered privileged or confidential unless, of course, we already represent you or have agreed to receive limited confidential material from you as a prospective client.

If you are a client, do not call with time-sensitive patent filing instructions and do not assume we have received or are acting upon your filing instructions unless you receive written confirmation from us.

If you would like to discuss becoming a client, please contact one of our attorneys to arrange for a meeting or telephone conference.

There, that wasn't so bad, was it? Thank you for your interest in Wolf Greenfield.

Accept & Call

212.336.3859

Pardon the interruption, but we are lawyers after all, so we need to make sure you understand that sending an email does not establish an attorney-client relationship. Also, you need to know the information in your email will not be considered privileged or confidential unless, of course, we already represent you or have agreed to receive limited confidential material from you as a prospective client.

If you are a client, do not send time-sensitive patent filing instructions just to this email recipient. Also send to filinginstructions@wolfgreenfield.com and do not assume we have received or are acting upon your filing instructions unless you receive written confirmation from us.

If you would like to discuss becoming a client, please contact one of our attorneys to arrange for a meeting or telephone conference.

There, that wasn't so bad, was it? Thank you for your interest in Wolf Greenfield.

Accept & Email

Jonathan.Thompson@wolfgreenfield.com

LinkedIn Profile
---
Overview
Jonathan Thompson assists the firm in patent prosecution in areas related to chemistry and materials science. With a background spanning from electrochemistry to microfluidics, he utilizes his broad technical experience when working with clients.
Jonathan regularly supports clients in areas including biosensors, electrochemistry, microfluidic devices, immunoassays, micro total analysis systems, electrokinetic separations, and electrocatalysis.
Prior to joining Wolf Greenfield, Jonathan completed his PhD in chemistry at University of Texas at Austin, with a specialization in electrochemistry. During his doctoral studies, Jonathan served as a graduate research assistant, where he developed two microfluidic, electrochemical approaches for membrane-free separations, and researched new analytical methods for manipulating microdroplet contents and for studying nanoparticle stability.
In addition, Jonathan has worked as an environmental health sciences intern at ICF International, where he assisted with the systematic review process on various EPA-funded projects and helped draft chemistry appendices for the National Toxicology Program.
---
Recognition
University of Texas Provost Graduate Excellence Fellowship – 2017-2022
National Science Foundation Graduate Research Fellowships Program Honorable Mention – 2018
---
Thompson, J. R.; Davies, C. D.; Clausmeyer, J.; Crooks, R. M. Cation-Specific Electrokinetic Separations Using Prussian Blue Intercalation Reactions. ChemElectroChem 2020. DOI: 10.1002/celc.202001095
Thompson, J. R.; Wilder, L. M..; Crooks, R. M. Filtering and continuously separating microplastics from water using electric field gradients formed electrochemically in the absence of buffer. Chem. Sci. 2021. DOI: 10.1039/D1SC03192A
Wilder, L. M.; Thompson, J. R.; Crooks, R. M. Electrochemical pH Regulation in Droplet Microfluidics. Lab Chip 2022. DOI: 10.1039/D1LC00952D
Thompson, J. R.; Crooks, R. M. Enriching Cations Using Electric Field Gradients Generated by Bipolar Electrodes in the Absence of Buffer. ChemElectroChem 2022. DOI: 10.1002/celc.202200251.
---
Interests
Jonathan has various personal interests outside of his work life, including indoor rock climbing, playing chess, reading fiction novels, and frequenting live music concerts with his wife.