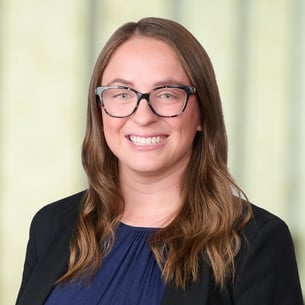 ---
Amanda Varrichione
(she/her/hers)

Associate | Electrical & Computer Technologies

Pardon the interruption, but we are lawyers after all, so we need to make sure you understand that calling, or leaving a message does not establish an attorney-client relationship. Also, you need to know the information in your call will not be considered privileged or confidential unless, of course, we already represent you or have agreed to receive limited confidential material from you as a prospective client.

If you are a client, do not call with time-sensitive patent filing instructions and do not assume we have received or are acting upon your filing instructions unless you receive written confirmation from us.

If you would like to discuss becoming a client, please contact one of our attorneys to arrange for a meeting or telephone conference.

There, that wasn't so bad, was it? Thank you for your interest in Wolf Greenfield.

Accept & Call

617.646.8161

Pardon the interruption, but we are lawyers after all, so we need to make sure you understand that sending an email does not establish an attorney-client relationship. Also, you need to know the information in your email will not be considered privileged or confidential unless, of course, we already represent you or have agreed to receive limited confidential material from you as a prospective client.

If you are a client, do not send time-sensitive patent filing instructions just to this email recipient. Also send to filinginstructions@wolfgreenfield.com and do not assume we have received or are acting upon your filing instructions unless you receive written confirmation from us.

If you would like to discuss becoming a client, please contact one of our attorneys to arrange for a meeting or telephone conference.

There, that wasn't so bad, was it? Thank you for your interest in Wolf Greenfield.

Accept & Email

Amanda.Varrichione@WolfGreenfield.com

LinkedIn Profile
---
Overview
Amanda Varrichione focuses her practice on electrical and computer technologies, working with companies and institutions of all sizes. Her practice includes utility and design patent application drafting and prosecution and developing IP strategy.
Amanda represents clients in patent matters in areas such as optics, photonics, imaging, microfluidics, medical devices and sensors, hardware control algorithms, microelectromechanical systems, and consumer products.
Amanda graduated from Northeastern University School of Law, where she was a member of the University's law review, a research assistant in trademark and copyright matters, and a teaching assistant for advanced legal research and first-year legal research and writing. During her time at law school, Amanda held co-op positions with Wolf Greenfield, where she assisted with prosecuting domestic and foreign applications related to electrical and computer technologies. Amanda has previously held co-op positions in the intellectual property department of a Boston-based law firm as well as in the technology transfer office at Northeastern University. She also worked as a student attorney in the IP CO-LAB, Northeastern University's intellectual property clinic.
Amanda received her Bachelor of Science from Worcester Polytechnic Institute in Physics. As an undergraduate at WPI, she completed a research project in WPI's IPG Photonics Laboratory, which involved the use of optics, photonics, and programming to develop a device that assists the visually impaired with recognizing colors.
---
Activities
Boston Intellectual Property Law Association: Member (2020-Present)
Leadership Council on Legal Diversity (LCLD) 2023 Pathfinder
---
Interests
Beyond client work, Amanda assists with hiring efforts for the Electrical & Computer Technologies Practice. She enjoys attending recruitment events and meeting new people.
In her free time, Amanda enjoys traveling and exploring new places. Amanda is an avid learner of geography and languages.