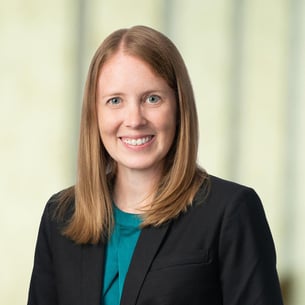 ---
Jessica A. von Reyn
(she/her/hers)

Associate | Biotechnology

Pardon the interruption, but we are lawyers after all, so we need to make sure you understand that calling, or leaving a message does not establish an attorney-client relationship. Also, you need to know the information in your call will not be considered privileged or confidential unless, of course, we already represent you or have agreed to receive limited confidential material from you as a prospective client.

If you are a client, do not call with time-sensitive patent filing instructions and do not assume we have received or are acting upon your filing instructions unless you receive written confirmation from us.

If you would like to discuss becoming a client, please contact one of our attorneys to arrange for a meeting or telephone conference.

There, that wasn't so bad, was it? Thank you for your interest in Wolf Greenfield.

Accept & Call

617.646.8228

Pardon the interruption, but we are lawyers after all, so we need to make sure you understand that sending an email does not establish an attorney-client relationship. Also, you need to know the information in your email will not be considered privileged or confidential unless, of course, we already represent you or have agreed to receive limited confidential material from you as a prospective client.

If you are a client, do not send time-sensitive patent filing instructions just to this email recipient. Also send to filinginstructions@wolfgreenfield.com and do not assume we have received or are acting upon your filing instructions unless you receive written confirmation from us.

If you would like to discuss becoming a client, please contact one of our attorneys to arrange for a meeting or telephone conference.

There, that wasn't so bad, was it? Thank you for your interest in Wolf Greenfield.

Accept & Email

Jessica.vonReyn@WolfGreenfield.com

LinkedIn Profile
---
Overview
Jessica von Reyn focuses her practice on US and foreign patent prosecution in the biotechnology space. She has worked with a diverse array of clients, including start-ups, universities, smaller companies, and large corporations. Jessica has extensive knowledge in the areas of RNA therapeutics, cell engineering, antibodies, gene therapies, and medical devices.
Jessica also has experience in prosecuting biotechnology patents relating to immune response modulators, drug delivery, antibodies, cell culture, assay design, nucleic acid sequencing, antisense nucleic acid therapeutics, and peptides.
Prior to joining Wolf Greenfield, Jessica was a research technician in the University of Vermont College of Medicine's Vermont Lung Center, where she researched mechanisms of lung biology and disease, including aspiration-related lung injury progression, in both laboratory and clinical settings. Her work predominantly focused on the effects of gastroesophageal reflux (microaspiration) and the resulting airway hyperresponsiveness, in asthmatic patients.
Jessica has co-authored several publications relating to her research, in addition to several chapters exploring the intersection of information technology, healthcare, and intellectual property protection.
---
Recognition
Public Interest Law Foundation Scholar
Wisconsin Idea Scholar
---
Scientific Publications
Tetenev K, Cloutier ME, von Reyn JA, Ather JL, Candon J, Allen GB. Synergy between acid and endotoxin in an experimental model of aspiration-related lung injury progression. Am J Physiol Lung Cell Mol Physiol. 2015 Nov 15;309(10):L1103-11.
Allen GB, Leclair TR, von Reyn JA, Larrabee YC, Cloutier ME, Irvin CG, Bates JH. Acid aspiration-induced airways hyperresponsiveness in mice. J Appl Physiol. 2009 Dec;107(6):1763-70.
Afia K. Asamoah, Sally Wang, Jessica A. von Reyn, and David J. Dykeman. "Electronic Health and Mobile Health Medical Technology: Platforms of Innovation," Health Care IT (Arthur Peabody, ed., ABA Books) (2013).
David J. Dykeman, Afia K. Asamoah, Jessica A. von Reyn, and Sally Wang. "Medical Devices in the Digital Age," Health Care IT (Arthur Peabody, ed., ABA Books) (2013).
Jessica von Reyn, Amritava Das, and Linda F. Hogle. "Beyond the Checkboxes: Research Integrity for Regenerative Biology Researchers," Regenerative Medicine Ethics: Governing Research and Knowledge Practices (Linda Hogle, ed., Springer Press) (2013).