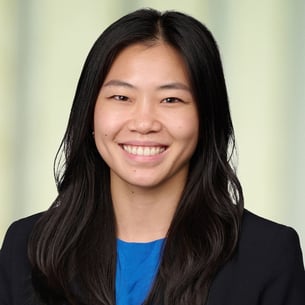 ---
Adrienne C. Zagieboylo, PhD
(she/her/hers)

Technology Specialist | Biotechnology

Pardon the interruption, but we are lawyers after all, so we need to make sure you understand that calling, or leaving a message does not establish an attorney-client relationship. Also, you need to know the information in your call will not be considered privileged or confidential unless, of course, we already represent you or have agreed to receive limited confidential material from you as a prospective client.

If you are a client, do not call with time-sensitive patent filing instructions and do not assume we have received or are acting upon your filing instructions unless you receive written confirmation from us.

If you would like to discuss becoming a client, please contact one of our attorneys to arrange for a meeting or telephone conference.

There, that wasn't so bad, was it? Thank you for your interest in Wolf Greenfield.

Accept & Call

617.646.8771

Pardon the interruption, but we are lawyers after all, so we need to make sure you understand that sending an email does not establish an attorney-client relationship. Also, you need to know the information in your email will not be considered privileged or confidential unless, of course, we already represent you or have agreed to receive limited confidential material from you as a prospective client.

If you are a client, do not send time-sensitive patent filing instructions just to this email recipient. Also send to filinginstructions@wolfgreenfield.com and do not assume we have received or are acting upon your filing instructions unless you receive written confirmation from us.

If you would like to discuss becoming a client, please contact one of our attorneys to arrange for a meeting or telephone conference.

There, that wasn't so bad, was it? Thank you for your interest in Wolf Greenfield.

Accept & Email

adrienne.zagieboylo@wolfgreenfield.com

LinkedIn Profile
---
Overview
Adrienne Zagieboylo assists the firm in biotechnology patent prosecution. Adrienne has extensive knowledge of biophysics and molecular diagnostics.
Prior to joining Wolf Greenfield full-time, Adrienne earned her PhD in Biophysics from Cornell University. Her research in the Laboratory of Dr. Iwijn De Vlaminck centered around the development of non-sputum-based diagnostic tests for tuberculosis, focusing specifically on the utility of circulating nucleic acids. As an undergraduate, she conducted her honors thesis in the Laboratory of Dr. Serdal Kirmizialtin, where she developed enhanced sampling methods for molecular dynamics simulations to model the conformational dynamics of polynucleotides across the energy landscape. In addition, Adrienne spent two summers at the firm as a technology specialist summer intern.
---
Activities
ComSciCon-NY, Organizer (2018-2020)
NYU Abu Dhabi iGEM, Team Leader and Student Advisor (2017-2018)
---
Recognition
Cornell Presidential Life Sciences Fellowship (2018)
New York University Founders Day Award/University Honors Scholar (2018)
---
Scientific Publications
Co-author. "A Novel Tool to Identify Bactericidal Compounds against Vulnerable Targets in Drug-Tolerant M. tuberculosis found in Caseum," Mbio (2023).
First author. "Metagenomic DNA sequencing to quantify Mycobacterium tuberculosis DNA and diagnose tuberculosis," Scientific Reports (2022).
Co-first author. "A metagenomic DNA sequencing assay that is robust against environmental DNA contamination," Nature Communications (2022).
First author. "Measurement biases distort cell-free DNA fragmentation profiles and define the sensitivity of metagenomic cell-free DNA sequencing assays," Clinical Chemistry (2022).
Co-author. "Kinetic and thermodynamic analysis defines roles for two metal ions in DNA polymerase specificity and catalysis," Journal of Biological Chemistry (2020).
Co-author. "Crystal growth, a research-driven laboratory course," Journal of Applied
Crystallography (2018).
Co-author. "Combination of resveratrol-containing collagen with adipose stem cells for craniofacial tissue-engineering applications," International Wound Journal (2018).
Co-author. "Enhanced wound-healing performance of a phyto-polysaccharide-enriched dressing - a preclinical small and large animal study," International Wound Journal (2017).
Co-author. "The immunomodulatory imbalance in patients with ketamine cystitis," BioMed Research International (2017).