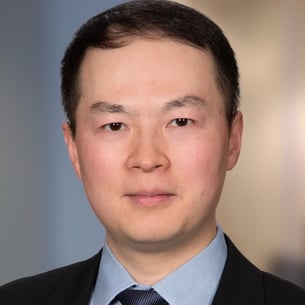 ---
William Wei Zhang, PhD
(he/him/his)

Counsel | Pharmaceutical

Pardon the interruption, but we are lawyers after all, so we need to make sure you understand that calling, or leaving a message does not establish an attorney-client relationship. Also, you need to know the information in your call will not be considered privileged or confidential unless, of course, we already represent you or have agreed to receive limited confidential material from you as a prospective client.

If you are a client, do not call with time-sensitive patent filing instructions and do not assume we have received or are acting upon your filing instructions unless you receive written confirmation from us.

If you would like to discuss becoming a client, please contact one of our attorneys to arrange for a meeting or telephone conference.

There, that wasn't so bad, was it? Thank you for your interest in Wolf Greenfield.

Accept & Call

617.646.8257

Pardon the interruption, but we are lawyers after all, so we need to make sure you understand that sending an email does not establish an attorney-client relationship. Also, you need to know the information in your email will not be considered privileged or confidential unless, of course, we already represent you or have agreed to receive limited confidential material from you as a prospective client.

If you are a client, do not send time-sensitive patent filing instructions just to this email recipient. Also send to filinginstructions@wolfgreenfield.com and do not assume we have received or are acting upon your filing instructions unless you receive written confirmation from us.

If you would like to discuss becoming a client, please contact one of our attorneys to arrange for a meeting or telephone conference.

There, that wasn't so bad, was it? Thank you for your interest in Wolf Greenfield.

Accept & Email

Wei.Zhang@WolfGreenfield.com

LinkedIn Profile
---
Overview
William Wei Zhang focuses his practice on patent prosecution in the areas of pharmaceuticals and polymer chemistry.
Prior to joining Wolf Greenfield, William worked as a medicinal chemist at Novartis Institutes for BioMedical Research. He contributed to developing structure-activity relationships and improving physicochemical and pharmacokinetic properties of lead compounds in multiple therapeutic areas. He is a co-inventor on two US patents directed to the treatment of diabetes and hepatitis C.
William obtained his PhD in Organic Chemistry from Columbia University under the direction of Professor Colin Nuckolls. His graduate work focused on the preparation and characterization of foldamers and organic semiconductors. A foldamer is an artificial, chain molecule that adopts, or "folds into," a secondary structure stabilized by noncovalent interactions. Foldamers have potential applications in the development of new drugs and functional materials. William synthesized novel oligomeric benzenetricarboxamides, which fold into defined secondary structures in solution under the synergy of hydrogen bonds and π-π interaction. He also prepared a stable and highly soluble tetraalkoxypentacene and solution-cast it to form single-wire, organic field-effect transistors.
---
Experience
Performed patent due diligences, including chemical structure searches, and patentability, freedom-to-operate, validity, and infringement analyses, some of which resulted in investments of half a billion US dollars.
Drafted and prosecuted patent applications.
Managed patent portfolios.
Assisted in inter partes reviews and litigations.
---
Activities
Boston Intellectual Property Law Association
---
Recognition
Recognized on the Best Lawyers: Ones to Watch list by The Best Lawyers in America

®

Repeatedly named to the list of Massachusetts Rising Stars by Super Lawyers
Faculty Fellowship, Columbia University
Graduate Student Excellence Award, Jiangsu Province Ministry of Education, China
---
Interests
William enjoys photography, videography, hiking, and gardening. Some pictures he took have been selected for inclusion in a city guide and a charitable website.