Diversity & Inclusion Employee Spotlight: Lupe Cruz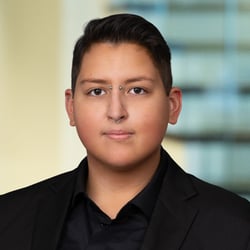 We are pleased to feature Technology Specialist Lupe Cruz in the September 2023 Diversity & Inclusion Employee Spotlight. Lupe works in the Biotechnology Practice and is based in Boston.
How long have you been at Wolf Greenfield?
Not long! I've been at Wolf Greenfield for a little more than half a year.
How has being authentic helped you in your career?
To me, being authentic means being aware of who I am and being comfortable in myself, even when I'm a bit of an outlier. I don't take myself too seriously, and I don't worry about trying to hide or tone down bits of myself- what you see is what you get. As a result, I think those around me, including in the workplace, tend to feel more comfortable to be themselves too and our interactions feel genuine. In professional settings, this has been especially important in building and maintaining my network. Many of the contacts I've kept up with for years are people with whom I connected on a basis of something as simple as shared music tastes or as complex as shared values.
That motivates you to wake up and go to work?
Every day is a learning opportunity. Whether it be working with a new technology or client, undergoing more legal training, or just getting to know what it's like to be a Wolfie, every day has a new puzzle to play with. In a lot of ways, it's nice to be a novice at something again.
What has been your favorite project/assignment at Wolf Greenfield?
It's difficult to pick just one project, but I generally enjoy patentability searches.
What is something most people don't know about you?
I've been doing crochet and embroidery since I was a child and I really enjoy both (great de-stressors). My favorite things to make include crochet lace, napkins, and bags. I hope to add weaving to my fiber arts repertoire soon.
Being Mexican, a lot of what people know about my culture is food-related— and when they find out I'm vegan, they think I've had to sacrifice tasty traditional dishes for a philosophy. I'm happy to report that neither taste nor tradition are at odds with being vegan. If anything, eating plant-based has not only increased my appreciation for plants, but has led to a refinement of both my cooking skills and my palate. Not to mention, I've found many of my favorite traditional foods were, until relatively recently, largely plant based. Overall, I've found that there are plenty of ways to make good, traditional food without sacrifice– least of all flavor!