Diversity & Inclusion Employee Spotlight: Roshan Plamthottam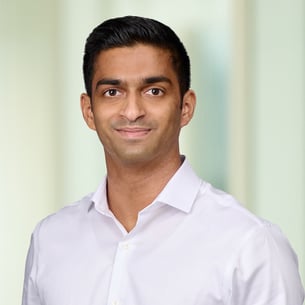 We are pleased to spotlight Patent Agent Roshan Plamthottam this month! Roshan works in the Chemical & Materials Technologies Practice and works out
of our Boston office.
How long have you been at Wolf Greenfield?
I recently started full-time as a Patent Agent in July 2023 after interning here during the summer of 2022. About six months total!
How has being authentic helped you in your career?
I have always felt authenticity has been incredibly important throughout my career as a Technology Specialist and an engineer. My parents, both Indian immigrants living in southern
California, showed me from a young age how to stay true to my roots and how doing so can lead to more meaningful relationships. Being authentic allows you to build trust with those around you including friends, coworkers, mentors, and clients. I believe much of the invaluable career advice I received over the years was because I was able to be honest about my strengths, weakness, and goals in the workplace.
What motivates you to wake up and go to work?
I have always loved learning about new areas of technology and solving problems
that are put in front of me. These are just two of the reasons why I like this job as
much as I do. Every day I feel like am learning something new and expanding my
horizons.
What has been your favorite project/assignment at Wolf Greenfield?
Since I am still relatively new, it is difficult to point to a single project as my favorite,
but some of my favorite assignments involve application drafting. I really enjoy
going through the creative process of explaining the story and importance behind a
particular invention while also bringing additional value to our clients.
What is something most people don't know about you?
I have been playing tennis since I was 10 years old. It is by far my favorite sport. I
am also a huge sports fan in general. With the basketball season ramping up, you
will definitely find me watching the games every night after work. #GoLakers