At Wolf Greenfield, we commit ourselves to fostering an inclusive environment that values trust, fairness, openness, and professionalism. As critical contributors to our law practice, our staff members are committed and highly valued. Here, you will join a team whose knowledge, kindness, and mutual respect make this not only a great place to work, but a place you'll want to stay.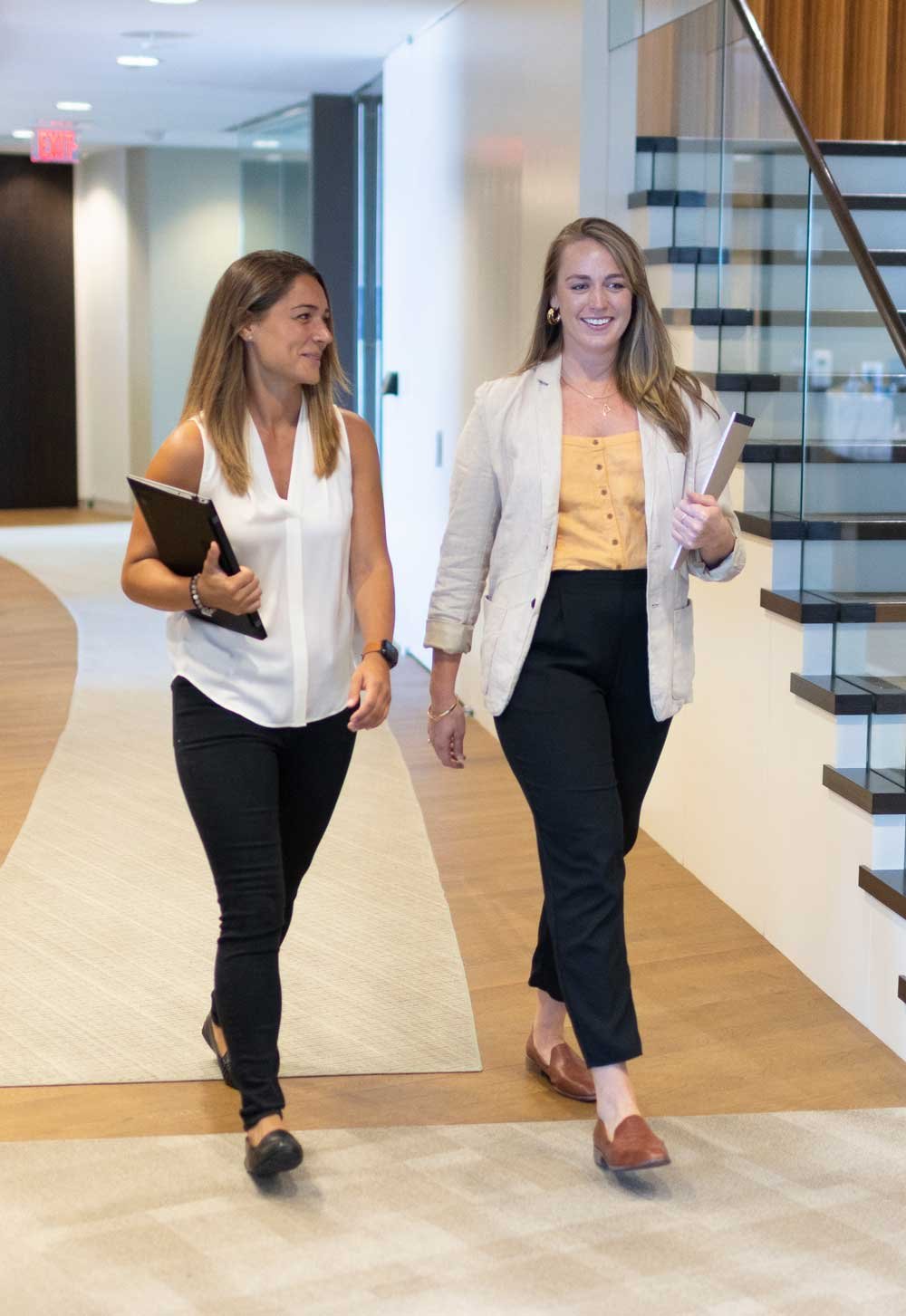 Better together.
Your academic and professional excellence, motivation, and dedication to delivering quality work will be rewarded at Wolf Greenfield. We recruit, hire, train and promote team members who demonstrate these qualities, and seek candidates who reflect the diversity that is essential to us and our clients. Here, your questions, exchanges of ideas, and suggestions are encouraged. We genuinely enjoy working together, and it shows.
Teamwork for tomorrow.
We are grateful for our partnerships with clients whose inventions, products, and services are changing our world for the better. We do work that is varied, interesting, and often on the cutting-edge. Your contributions will have a critical impact on our clients' businesses, and our dedication to protecting and enforcing our clients' intellectual property provides us all with a common purpose and a more interconnected firm.
Frequently Asked Questions
Wolf Greenfield is committed to your health and well-being, and we recognize that benefits are a critically important part of the employee experience. We offer a generous and comprehensive benefits package for employees and their families, and strive to continually enhance our benefits program to meet your needs.
Medical, Dental & Vision Plans (Domestic Partner Coverage Available)
Short & Long Term Disability Plans
Generous Paid Time Off Benefits
Paid Leave for Primary and Secondary Caregivers
Employer Subsidized Health Savings Accounts
Healthy Living & Financial Wellness Programming
Flexible Spending Accounts (Health and Dependent Care)
Firm Paid Life and AD&D Insurance (Supplemental Coverage options for employee and dependents)
Employee Assistance Plan (Free Counseling, Referrals, Work/Life Balance Resources)
401(k) Matching and Profit Sharing Program
Tuition Reimbursement
Life Insurance
Onsite Gym Facility (Boston)
Entertainment Discount Program
Home, Auto and Renters Insurance Discounts
Rewards & Recognition Programs
Pre-tax Parking and Subsidized Transit Benefits
Employee Referral Bonus

Mental Health Support & Counseling

Matching Gift Program
Child and Adult Back Up Care
Volunteer Opportunities
Pet Insurance
Social Events
We are hiring for positions in many departments across our various business professional functions. Select the "Apply Here" button below to explore current openings.
We fully comply with all laws prohibiting discrimination against any qualified applicant or employee on the basis of race, color, religion, creed, age, gender, gender identity or expression, sexual orientation, citizenship, national origin, marital, parental or veteran status, or disability as well as any other consideration made unlawful by applicable federal, state or local laws.

All offers of employment at Wolf Greenfield are contingent upon clear results of a thorough background check. Background checks will be conducted on all final candidates and on all employees who are promoted, as deemed necessary.

Current regulations relating to the deemed export of certain information and technologies with which we and our clients work require us to limit access to citizens of the United States and United States permanent residents.