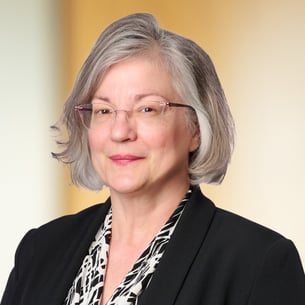 ---
Maryanne Trevisan, PhD
(she/her/hers)

Shareholder | Biotechnology, Co-chair

Pardon the interruption, but we are lawyers after all, so we need to make sure you understand that calling, or leaving a message does not establish an attorney-client relationship. Also, you need to know the information in your call will not be considered privileged or confidential unless, of course, we already represent you or have agreed to receive limited confidential material from you as a prospective client.

If you are a client, do not call with time-sensitive patent filing instructions and do not assume we have received or are acting upon your filing instructions unless you receive written confirmation from us.

If you would like to discuss becoming a client, please contact one of our attorneys to arrange for a meeting or telephone conference.

There, that wasn't so bad, was it? Thank you for your interest in Wolf Greenfield.

Accept & Call

617.646.8266

Pardon the interruption, but we are lawyers after all, so we need to make sure you understand that sending an email does not establish an attorney-client relationship. Also, you need to know the information in your email will not be considered privileged or confidential unless, of course, we already represent you or have agreed to receive limited confidential material from you as a prospective client.

If you are a client, do not send time-sensitive patent filing instructions just to this email recipient. Also send to filinginstructions@wolfgreenfield.com and do not assume we have received or are acting upon your filing instructions unless you receive written confirmation from us.

If you would like to discuss becoming a client, please contact one of our attorneys to arrange for a meeting or telephone conference.

There, that wasn't so bad, was it? Thank you for your interest in Wolf Greenfield.

Accept & Email

Maryanne.Trevisan@WolfGreenfield.com

LinkedIn Profile
---
Overview
Maryanne Trevisan co-chairs the firm's Biotechnology Practice. She works with clients in prosecution and contested matters in a variety of technologies, with a particular focus on regenerative medicine, medical imaging modalities, cancer therapeutics, and nucleic acid sequencing.
Maryanne provides strategic legal counseling to her clients including patentability and freedom-to-operate analyses. She has also been involved in several interferences and oppositions.
For her doctoral work, Maryanne studied the phenotype of adult hematopoietic stem cells using a variety of functional assays. For her post-doctoral work, she studied the hemopoietic defect in mice lacking the Ikaros protein using in vitro embryonic stem (ES) cell differentiation and retroviral expression systems. Maryanne's law school thesis analyzed the antitrust issues in patent litigation settlements between brand name and generic pharmaceutical companies.
Client Testimonials
Yesterday morning I was sitting in a meeting and in the middle of everything realized we had something we needed to protect. I called Maryanne and we got something filed by 11:00 last night. That kind of work ethic doesn't exist in most law firms.
Maryanne is very good. She's very responsive and does a good job filling in the pieces without doing too much searching. What she sends me has good commentary and the discussions are good.
I have the ability to brainstorm with Maryanne and really discuss things we are doing so together we can come up with the best solutions.
We are blessed to have Maryanne. She is a relatively young partner and really hard-working and smart. She's a very effective patent lawyer.
---
Experience
Managed patent portfolio of company in phase II/III clinical trial with anti-cancer small molecule therapeutic.
Established patent portfolio for sequencing start-up company.
Assisted client in successful interference relating to genotyping.
---
Activities
American Intellectual Property Law Association
Boston Intellectual Property Law Association
---
Recognition
Maryanne has repeatedly been named a "Life Science Star" by LMG Life Sciences. The LMG Life Sciences guide is based on case evidence and interviews with clients and peers from other law firms. She has also been repeatedly named to the list of Massachusetts Super Lawyers in the field of intellectual property law as well as The Top 100 Women Attorney in Massachusetts. In addition, she has been repeatedly named to The Best Lawyers in America®.
Maryanne was also awarded a Terry Fox Post-Doctoral Fellowship from the National Cancer Institute of Canada to pursue her post-doctoral fellowship at Massachusetts General Hospital. She was also the recipient of a Studentship from the Medical Research Council of Canada, an Ontario Graduate Scholarship, and a University of Toronto Doctoral Scholarship.
While in law school, Maryanne received the Daniel J. Fern Award for graduating first in her class.