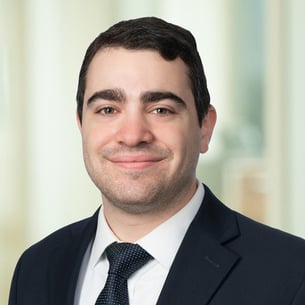 ---
Harrison E. Shecter
(he/him/his)

Patent Agent | Electrical & Computer Technologies

Pardon the interruption, but we are lawyers after all, so we need to make sure you understand that calling, or leaving a message does not establish an attorney-client relationship. Also, you need to know the information in your call will not be considered privileged or confidential unless, of course, we already represent you or have agreed to receive limited confidential material from you as a prospective client.

If you are a client, do not call with time-sensitive patent filing instructions and do not assume we have received or are acting upon your filing instructions unless you receive written confirmation from us.

If you would like to discuss becoming a client, please contact one of our attorneys to arrange for a meeting or telephone conference.

There, that wasn't so bad, was it? Thank you for your interest in Wolf Greenfield.

Accept & Call

617.646.8183

Pardon the interruption, but we are lawyers after all, so we need to make sure you understand that sending an email does not establish an attorney-client relationship. Also, you need to know the information in your email will not be considered privileged or confidential unless, of course, we already represent you or have agreed to receive limited confidential material from you as a prospective client.

If you are a client, do not send time-sensitive patent filing instructions just to this email recipient. Also send to filinginstructions@wolfgreenfield.com and do not assume we have received or are acting upon your filing instructions unless you receive written confirmation from us.

If you would like to discuss becoming a client, please contact one of our attorneys to arrange for a meeting or telephone conference.

There, that wasn't so bad, was it? Thank you for your interest in Wolf Greenfield.

Accept & Email

Harrison.Shecter@WolfGreenfield.com

LinkedIn Profile
---
Overview
Harrison Shecter assists the Electrical & Computer Technologies Practice in patent prosecution.
Prior to joining Wolf Greenfield, Harrison studied at UMass Amherst, where he obtained an MS in Electrical Engineering. During his undergraduate studies, Harrison focused on radio-frequency (RF) transmission and reception circuit architectures. For Harrison's graduate work at the Center for Advanced Sensor and Communications Antennas, he designed, simulated, measured and evaluated experimental antenna prototypes for 5G cellular applications.
---
Experience
Patent prosecution in a diverse range of electrical and computing technologies including:

High-speed electrical connectors
High-performance audio transceivers
RF-based, ultra-precise location devices
RF-based geolocation and tracking systems for high-speed rail applications
Galvanic-isolated power electronics and data communication systems
Electric vehicle charging circuitry
Medical imaging devices (e.g., MRI, ultrasound, fluorescence)
Machine-learning drug discovery algorithms

Open-source software license review and clearance analysis.
Patent invalidity and non-infringement assessment in the field of RF cellular antennas.
---
Interests
Visiting cities around the world and experiencing international cuisine
Competing in pub trivia
Playing rock and jazz guitar
Building computers