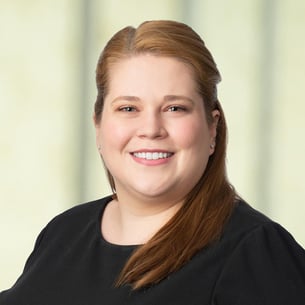 ---
Sarah C. Schlotter, PhD
(she/her/hers)

Associate | Electrical & Computer Technologies

Pardon the interruption, but we are lawyers after all, so we need to make sure you understand that calling, or leaving a message does not establish an attorney-client relationship. Also, you need to know the information in your call will not be considered privileged or confidential unless, of course, we already represent you or have agreed to receive limited confidential material from you as a prospective client.

If you are a client, do not call with time-sensitive patent filing instructions and do not assume we have received or are acting upon your filing instructions unless you receive written confirmation from us.

If you would like to discuss becoming a client, please contact one of our attorneys to arrange for a meeting or telephone conference.

There, that wasn't so bad, was it? Thank you for your interest in Wolf Greenfield.

Accept & Call

617.646.8269

Pardon the interruption, but we are lawyers after all, so we need to make sure you understand that sending an email does not establish an attorney-client relationship. Also, you need to know the information in your email will not be considered privileged or confidential unless, of course, we already represent you or have agreed to receive limited confidential material from you as a prospective client.

If you are a client, do not send time-sensitive patent filing instructions just to this email recipient. Also send to filinginstructions@wolfgreenfield.com and do not assume we have received or are acting upon your filing instructions unless you receive written confirmation from us.

If you would like to discuss becoming a client, please contact one of our attorneys to arrange for a meeting or telephone conference.

There, that wasn't so bad, was it? Thank you for your interest in Wolf Greenfield.

Accept & Email

Sarah.Schlotter@WolfGreenfield.com

LinkedIn Profile
---
Overview
Sarah Schlotter focuses her practice on patent prosecution across a range of technology. Sarah regularly supports clients in areas including quantum computing and telecommunication, low-temperature physics, medical devices, microelectromechanical systems (MEMS), including both microfabrication techniques and MEMS devices, and integrated photonics. Sarah also has experience supporting clients in areas of machine learning and artificial intelligence and bioinformatics.
Sarah's intellectual property experience includes patent application drafting, patent prosecution, and IP diligence, including patentability and freedom-to-operate analyses.
Prior to joining Wolf Greenfield, Sarah completed her PhD in Applied Physics at Harvard University. She was jointly advised by Professor Amir Yacoby in the Department of Physics at Harvard University and Professor Geoffrey Beach in the Department of Materials Science and Engineering at MIT. Her research focused on the engineering of magnetic thin films for low power data storage applications and nitrogen-vacancy center magnetometry.
---
Experience
Quantum Technologies
Sarah handles the patent prosecution and portfolio management of quantum technology start-ups including Qunnect, Inc. and Maybell Quantum.
Sarah assists with patent prosecution for The Yale Quantum Institute.
Sarah has assisted with diligence on behalf of a SPAC evaluating a quantum start-up.
Bioinformatics
Sarah handles the patent prosecution for bioinformatics-related patents for The Jackson Laboratory (JAX).
---
Recognition
Sarah was a National Science Foundation Graduate Research Fellow.