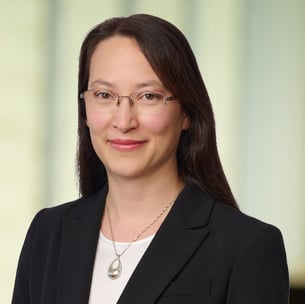 ---
Elisabeth H. Hunt, PhD
(she/her/hers)

Shareholder | Post-Grant Proceedings, Co-chair

Pardon the interruption, but we are lawyers after all, so we need to make sure you understand that calling, or leaving a message does not establish an attorney-client relationship. Also, you need to know the information in your call will not be considered privileged or confidential unless, of course, we already represent you or have agreed to receive limited confidential material from you as a prospective client.

If you are a client, do not call with time-sensitive patent filing instructions and do not assume we have received or are acting upon your filing instructions unless you receive written confirmation from us.

If you would like to discuss becoming a client, please contact one of our attorneys to arrange for a meeting or telephone conference.

There, that wasn't so bad, was it? Thank you for your interest in Wolf Greenfield.

Accept & Call

617.646.8443

Pardon the interruption, but we are lawyers after all, so we need to make sure you understand that sending an email does not establish an attorney-client relationship. Also, you need to know the information in your email will not be considered privileged or confidential unless, of course, we already represent you or have agreed to receive limited confidential material from you as a prospective client.

If you are a client, do not send time-sensitive patent filing instructions just to this email recipient. Also send to filinginstructions@wolfgreenfield.com and do not assume we have received or are acting upon your filing instructions unless you receive written confirmation from us.

If you would like to discuss becoming a client, please contact one of our attorneys to arrange for a meeting or telephone conference.

There, that wasn't so bad, was it? Thank you for your interest in Wolf Greenfield.

Accept & Email

Elisabeth.Hunt@WolfGreenfield.com

LinkedIn Profile
---
Overview
Elisabeth Hunt co-chairs Wolf Greenfield's Post-Grant Proceedings Practice, which has been ranked in the top five percent of law firms for best performance before the Patent and Trial Appeal Board (PTAB) in Patexia's IPR Intelligence Report. Elisabeth has been recognized by the PTAB Bar Association among the Top 50 Women in PTAB Trials, and has represented patent challengers and patentees in over 60 proceedings before the PTAB. Elisabeth regularly serves as lead counsel for sophisticated technology companies in inter partes review (IPR), post-grant review (PGR), and patent reexamination proceedings.
Elisabeth is also experienced in US and foreign patent prosecution, and counsels clients in developing IP portfolio strategies that complement and enhance their business objectives, and is experienced in providing studies and opinions including IP due diligence, freedom-to-operate, competitive landscape, patentability and infringement studies, as well as litigation support.
Elisabeth's technical experience spans a wide range of electrical and computer technologies, including speech technology, language understanding, machine learning, 3D printing, media technology, accessibility technology, social networking, gaming, financial transactions, data storage and recovery, signal processing, software, and electronics.
Client Testimonial
Wolf Greenfield's Post-Grant Proceedings Practice features a team that's unparalleled in its ability to pick apart technically complex cases to plot a path to success. The team quickly distills cases down to key technical issues to develop and present winning arguments. Moreover, working with Rich and Elisabeth in particular is a pleasure: they are highly responsive, engaging, and tenacious. I highly value and trust their judgment and work product.
---
Experience
Lead counsel for our client RPX, a leading provider of patent risk solutions, in three IPRs challenging a patent asserted a by non-practicing entity against 29 large technology companies. Exposed a defect in patent's priority claim and developed a corresponding invalidity ground resulting in dismissal of all lawsuits and disclaimer of the patent. (IPR2017-00208, IPR2017-00209, IPR2017-00212)
As lead IPR counsel for Google and LG, successfully invalidated all challenged claims in two patents on instant messaging technology asserted by Zipit Wireless. (IPR2019-01567, IPR2019-01568)
As lead counsel for Google, filed ex parte reexamination successfully invalidating all challenged claims of patent asserted by Cypress Lake Software on mobile GUI technology, with the rejection then being affirmed by the PTAB on appeal. (90/014,250)
As lead counsel for our client Formlabs, a 3D printing technology developer and manufacturer, filed IPR challenging competitor's patent asserted against our client in litigation, and successfully invalidated all challenged claims. (IPR2017-01258)
For our client Nuance Communications, successfully defended all claims of patent on medical record technology challenged by competitor MModal in IPR, with result upheld on appeal to the Federal Circuit. (IPR2018-01355)
For our client Enleofen, Boehringer Ingelheim and patent owners Singapore Health Services and the National University of Singapore, successfully defended patent on groundbreaking fibrosis treatment, by convincing the PTAB to deny institution of PGR filed by competitor Lassen Therapeutics. (PGR2019-00053)
For our client RPX, obtained final written decisions canceling all challenged claims in three IPRs against two patents asserted by a non-practicing entity, and obtained the first-ever sanction of attorneys' fees awarded by the PTAB against a party. Sanctions were imposed for a protective order violation. (IPR2015-01750, IPR2015-01751, IPR2015-01752)
Represented patent owner Nuance Communications, Inc. in multiple ex parte reexamination proceedings resolved with all original patent claims confirmed. (e.g., 90/013,878; 90/011,126)
Prepared and prosecuted patent applications in many diverse fields, such as natural language understanding, automatic speech recognition, speech synthesis, healthcare automation, artificial intelligence and machine learning, knowledge representation, social networking, media technology, financial transactions, accessibility technology, casino gaming, data storage and recovery, networking and communications, security, signal processing, image processing, software and microprocessor design.
Advised clients in assessing technological development initiatives and developing strategies for focused patent protection. Developed strategies and value assessments for pursuing international patent protection for software and business-related innovations in light of widely differing legal treatment in various countries around the world.
Identified and exercised opportunities for client to mine previously purchased portfolio of patent applications for early-priority claims covering newly marketable technologies.
Conducted prior art searches and analyses for freedom to operate and patentability.
Conducted infringement analyses and provided litigation support for patent owners defending their technology against encroachment by competitors. Provided in-depth technical analyses of plaintiff's patents and infringer's products used in identifying the best patents to assert.
---
Recognition
PTAB Bar Association: Top 50 Women in PTAB Trials
Patexia IPR Intelligence Report: Ranked among the top 3% of most active attorneys practicing before the PTAB
Patexia CAFC Intelligence Report: Ranked among the top 4% of most active and best performing attorneys in CAFC cases
Super Lawyers: Repeatedly named a Rising Star
Managing IP: Repeatedly named an IP Rising Star
The Best Lawyers in America®: Repeatedly recognized on the Best Lawyers: Ones to Watch list
Received the Daniel J. Fern Award from Suffolk University Law School for graduating first in her class
Member of the Tau Beta Pi National Engineering Honor Society
---
Interests
Elisabeth is a classically trained soprano and minored in Music Performance in both college and graduate school. She was an MIT Concerto Competition winner and a four-year recipient of the Emerson Advanced Music Performance Fellowship at MIT. She has been a member of many choral groups, including the Princeton Katzenjammers and the Tanglewood Festival Chorus of the Boston Symphony Orchestra.