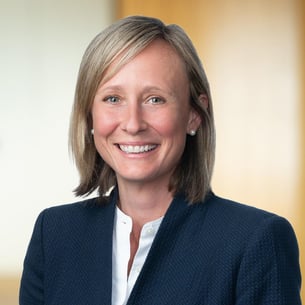 ---
Christina M. Licursi
(she/her/hers)

Shareholder | Trademark & Copyright, Co-chair

Pardon the interruption, but we are lawyers after all, so we need to make sure you understand that calling, or leaving a message does not establish an attorney-client relationship. Also, you need to know the information in your call will not be considered privileged or confidential unless, of course, we already represent you or have agreed to receive limited confidential material from you as a prospective client.

If you are a client, do not call with time-sensitive patent filing instructions and do not assume we have received or are acting upon your filing instructions unless you receive written confirmation from us.

If you would like to discuss becoming a client, please contact one of our attorneys to arrange for a meeting or telephone conference.

There, that wasn't so bad, was it? Thank you for your interest in Wolf Greenfield.

Call 617.646.8384 Call 212.336.3857

617.646.8384 | 212.336.3857

Pardon the interruption, but we are lawyers after all, so we need to make sure you understand that sending an email does not establish an attorney-client relationship. Also, you need to know the information in your email will not be considered privileged or confidential unless, of course, we already represent you or have agreed to receive limited confidential material from you as a prospective client.

If you are a client, do not send time-sensitive patent filing instructions just to this email recipient. Also send to filinginstructions@wolfgreenfield.com and do not assume we have received or are acting upon your filing instructions unless you receive written confirmation from us.

If you would like to discuss becoming a client, please contact one of our attorneys to arrange for a meeting or telephone conference.

There, that wasn't so bad, was it? Thank you for your interest in Wolf Greenfield.

Accept & Email

Christina.Licursi@WolfGreenfield.com

LinkedIn Profile
---
Overview
Christina Licursi focuses her practice on global portfolio management, counseling, and advising clients on a wide range of intellectual property matters, including branding strategies and protection, trademark and copyright infringement matters, licensing issues, and domain name disputes. With over a decade of experience, Christina has demonstrated experience in connection with developing, using, registering, licensing, and enforcing trademarks and copyrights. Her experience encompasses both trademark prosecution and litigation, including representing clients in federal courts across the country and before the US Patent and Trademark Office's Trademark Trial and Appeal Board (TTAB). In addition to trademark matters, she also handles various copyright issues, domain names and related disputes, and social media and internet matters.
Within her trademark counseling practice, Christina uses a team approach to manage a robust practice, advising clients and international associates on branding strategies and understanding the business and legal risks associated with the adoption, use, and registration of trademarks both domestically and around the world. From selection and clearance, to protection and enforcement, she works closely with clients of all sizes to establish, build, and protect company brands. She has extensive experience in filing through the World Intellectual Property Organization (WIPO) system, being recognized as the top US Madrid filer nationwide in 2021. In addition to her WIPO experience, Christina has great relationships within the international trademark community and can leverage her global network for quick access to a vast repertoire of trademark and copyright advice anywhere in the world.
Christina's practice includes working with clients to help them maximize the value of their trademark portfolios. With a background spanning the business, legal, and scientific fields, Christina has a strong business acumen and demonstrated ability to work closely with all levels of business on branding and enforcement issues alike. She is known for forming strong relationships with her clients, often collaborating with internal legal, marketing, and business departments, helping to develop global trademark protection and enforcement plans, drafting trademark use guidelines, and providing training on best practices on the use and enforcement of trademarks globally.
In addition to handling trademark disputes before the TTAB, Christina has extensive experience enforcing trademarks and managing complex international disputes and negotiating settlement agreements. She has represented a number of clients in successful internet-related disputes and regularly advises clients regarding online enforcement and internet advertising practices. Whenever possible, Christina favors amicable resolution, and will always encourage clients to consider creative settlement options to avoid litigation.
In addition to branding matters, clients rely on Christina to address complex trademark and copyright issues, including ownership and validity questions, domain name matters, the use or misuse of trademarks in social media, right of publicity, unfair competition, and fair use issues. She is adept at accurately identifying IP risks and opportunities in contested matters and corporate transactions alike, delivering strategic, practical advice with an emphasis on the client's business needs and reasonable outcomes.
Christina is based in Boston, but also supports clients from the firm's New York office. She is actively involved in the International Trademark Association (INTA) community. She is also a former member of Wolf Greenfield's Executive Committee and a frequent speaker on trademark issues as well as issues relating to leadership and diversity.
Prior to becoming an attorney, Christina worked in business development and in a rotational management training role, where she garnered experience as a project manager, finance manager, operations supervisor, and customer relationship manager. While completing her Master's at Tufts University, Christina worked as a research assistant at Tufts Center for the Study of Drug Development, where she looked at trends in post-marketing commitments and their impact on drug development.
Client Testimonials
Christina understands where the risks lie and what can be done to mitigate them, making her an essential adviser to business leaders.
Christina is in the highest tier of trademark lawyers in the region. She is a deeply strategic thinker who communicates very effectively not just with in-house counsel but also with companies' business leaders.
Christina's effective, solution-oriented approach has been a tremendous contribution to our organization. Her consistency, professionalism, and agility have been true assets for us as our organization's needs have grown and changed over time.
---
Experience
Biotechnology
Provide ongoing strategy for a number of international biotech companies on diverse IP and business matters, including developing procedures for and overseeing trademark clearance and filing program for pharmaceutical brand names.
Handle a majority of the trademark work for Flagship Pioneering's companies, working with them on mark selection, clearance, and filing strategies that are unique to early-stage companies (many of which are in stealth mode).
Other Industries and Experience
Handle the full trademark portfolio—which includes over 500 marks—for Wayfair, the largest e-commerce retailer of home goods in the US.
Support Perch, which has emerged as one of the top sellers on Amazon and has acquired over 30 Amazon brands, with their trademark and IP needs.
Successfully overcome descriptiveness refusals in various jurisdictions around the world.
Successfully resolve complex international and multijurisdictional trademark conflicts.
Worked with a global consumer products company to develop strategy for a high-volume clearance project and multicountry launch of new consumer product line.
Successfully cleared a high volume of names and logos for multiple new product launches for a consumer goods company.
Worked with a number of technology start-ups to form and implement brand protection strategies within limited budgets.
---
Activities
MIT Enterprise Forum of NYC: Member (2018–Present)
MIT Enterprise Forum of Cambridge: Board Member (2017–2021)
MIT Enterprise Forum of Cambridge: Co-chair of the Innovation Series (2013–2018)
Boston Bar Association: Co-chair of IP Litigation Section (2014–2016)
Boston Intellectual Property Law Association: Member; Co-chair of Trademark Group (2012–2015)
International Trademark Association (INTA): Member; Table Topic Moderator (2012); Non-Traditional Marks Committee (2017–Present)
Tufts University Medical School Alumni Association: Public Health and Professional Degree Programs Alumni Board Member (2011–2013)
Discovering Justice: Volunteer and Guest Juror for Mock Trials (2007–Present)
Massachusetts Bar Association: Member (2007–Present)
---
Recognition
Recognized among the top 1% of most active and best performing trademark attorneys by Patexia, Inc.
Repeatedly named to World Trademark Review 1000 – The World's Leading Trademark

Professionals

Repeatedly named to Managing IP's IP Stars list as a Nationwide Trademark Star

Repeatedly named to The Best Lawyers in America

®

Named a United States Trademark Leader in World IP Review's WIPR Leaders 2023
Repeatedly named to the Massachusetts Super Lawyers list in the field of intellectual property law
Named one of Massachusetts Super Lawyers' top 100 Women Attorneys
Honored at the Excellence in the Law Awards Ceremony as one of 26 "up and coming" lawyers across the state of Massachusetts (2018)
Named a "Boston Rising Star" by The National Law Journal, which honors 40 outstanding young lawyers who have accomplished big feats in their short legal careers (2015)
---
Interests
Listening to music (with a strong penchant for acoustic covers), reading The New Yorker or good fiction novels, playing in the waves, playing racquet sports, gardening and cooking with fresh ingredients, walking with Kayla the Cockapoo, and spending time with family and friends.